TypeType was established as one of the first digital type foundries in St. Petersburg, Russia. Founded in 2013, this type foundry is one that pursues and celebrates collaboration through all that it does, seeking to work with graphic designers and typographers to craft high quality, versatile fonts for a global market.
Over time, TypeType has introduced new designers to its team, including Vika Usmanova and Phillip Nurullin, both of whom worked on the design for one of TypeType's more recent releases, TT Tunnels.
With Vika's strong background in graphic design with an emphasis on branding, and Phillip's experience in type design, typography, and web design, the pair was destined to create a strong font family.
TT Tunnels is a sans serif that was originally designed as a display type, something that would work well specifically with shorter word phrases typically found in displays, signage, titles, and the like, yet its design surprisingly gives way to crafting visually interesting body text, carrying itself with a rather gothic quality that maintains a modern feel.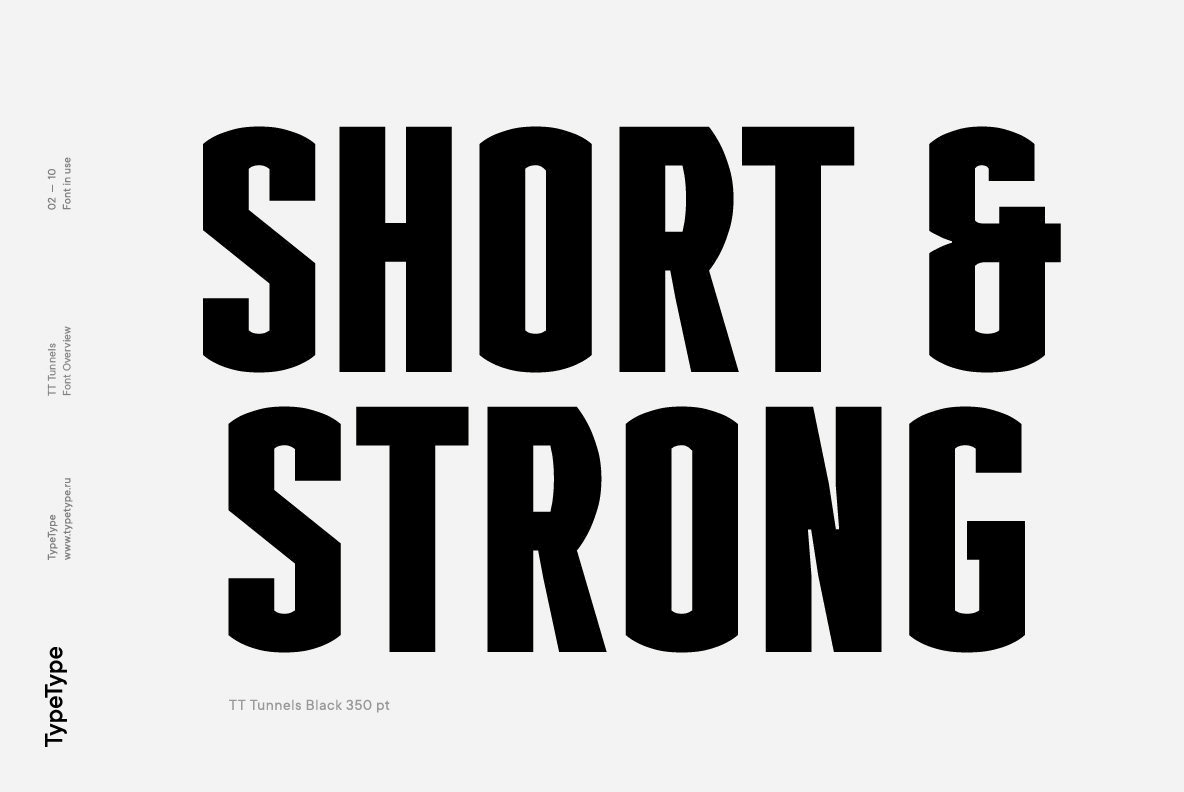 A narrow, modular font family with an industrial flair, TT Tunnels was created using classic geometric principles. Its five weights were deemed "minimally necessary," each exploring the same basic architecture in Thin, Light, Regular, Bold, and Black, and providing graphic designers with a range of options that are just enough to work with, without feeling overwhelming.
Every typeface within the TT Tunnels family has been completed with ink traps, making it an ideal choice for both digital and print designs. Its heavier weights are beautifully suited to large displays, signage, strong logos, book covers, posters, headlines, advertising, magazine layouts, and any design project that needs to convey a strong message. Its condensed nature makes it an ideal choice when horizontal space is limited. TT Tunnels' lighter weights are an intriguing option for body text, infographics, product packaging, labels, tags, and website designs.
The range of weights and widths available with TT Tunnels makes it an excellent candidate for identity and branding projects where design cohesion though multiple media channels is needed.
Like the rest of TypeType's designs, TT Tunnels offers an incredible range of additional features, including case sensitive forms, numerators, denominators, fractions, standard ligatures, slashed zero, oldstyle figures, tabular figures, and stylistic alternates. Its multilingual support is stellar, covering Basic Latin, Western European, Euro, Baltic, Turkish, Central European, Romanian, Pan African Latin, and Basic Cyrillic for extensive global accessibility.
TypeType currently offers 39 products through YouWorkForThem, an impressive range of expertly crafted serifs, sans serifs, scripts, and display fonts to suite a wide variety of design projects. Visit their portfolio to view the rest of their body of work and check back often for new additions!