Based in Indonesia, Eko Bimantara has spent the last decade working in the field of visual art and graphic design. His experience has given him a rich appreciation for solid typography, one that would eventually inspire a fierce passion for type design.
Eko's own work in typography focuses on meeting the specific needs of graphic designers. With a background in branding, he understands exactly how font choice can make or break a project's overall success. When it comes to type design, he strives to present fonts that are of exemplary quality and offer extensive usability, while adhering to the principles of modern design and ever-changing design aesthetics.
One of his more recent releases through YouWorkForThem is Musk, a font duo that features an elegant sans serif and an eloquent connective script. With a name whose roots are founded in the field of perfumery, Musk is an attractive pair of type designs that work harmoniously together, yet they stand beautifully on their own as well.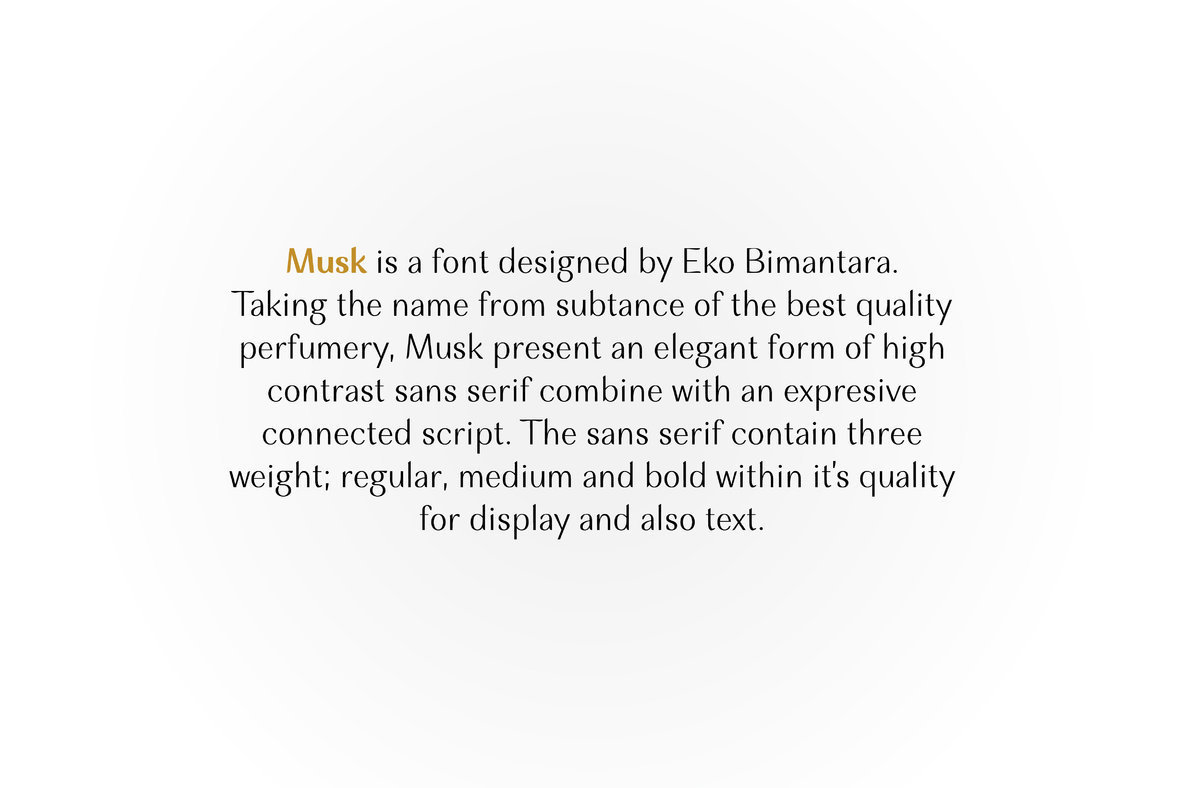 The sans serif is available in three weights: Light, Medium, and Bold. This range offers designers greater flexibility with Musk's sophisticated architecture. The high contrast lettering allows for fantastic legibility, regardless of its application, and it offers both standard ligatures and oldstyle figures. Musk sans serif is a brilliant addition to any project that needs a refined letter set to get its message across, including headlines, editorials, body text, website design, displays, signage, product packaging, presentations, and logos.
Musk Script offers strong, contemporary lettering with a ribbonlike quality. Thick, fluid strokes carry themselves with a hint of femininity, yet they do so without feeling flowery or flamboyant. Musk Script is a modern connected cursive writing, one that's well suited to logos, product packaging, advertising, and branding. Initial and end swashes give Musk Script a considerable amount of design versatility.
The Musk font duo extends multilingual support to Basic Latin, Western European, Euro, and Pan African Latin languages for global accessibility.
Eko Bimantara currently offers four products through YouWorkForThem and we're looking forward to seeing more of his work in the future. Visit his portfolio to see the rest of his type designs and bookmark it so you won't miss any of his upcoming additions!