We love Set Sail Studios because its typography always exhibits such bold personality, openly celebrating the expression of the human experience in type form. With a keen preference for organic, handcrafted lettering, Set Sail Studios creates fonts that are rich in individuality and versatility, two vital characteristics that make them a clear favorite among graphic designers around the world.
Sam Parrett established Set Sail Studios as an online store with a goal to provide the design industry with useful products that suit a wide range of applications. As a graphic designer himself, Sam has seen a great deal of success working in typography. In fact, his work secured three out of ten spots in our Top Ten Fonts Of 2016.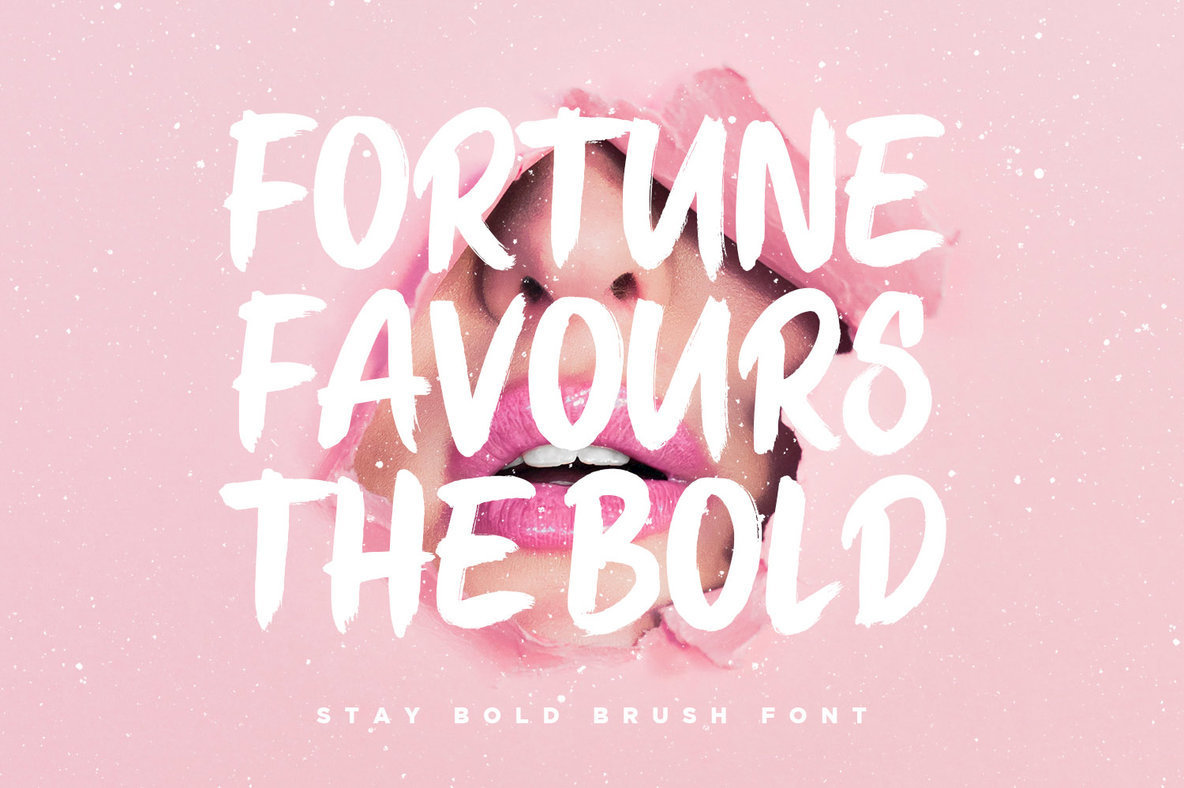 One of his latest releases is Stay Bold, a powerfully-drawn brush script "with extra chunk in the trunk." A rough, paint-brushed edge adds the perfect touch of exhilaration; this font is fearless, living every moment to its fullest in case tomorrow never comes.
"I've been designing a lot of cursive script fonts lately and felt like doing something a bit different without following any current trends," Sam explained. "The idea was to create quite a basic, but very impactful brush display font – I envisioned it being used for merchandise and promotional images looking for a handmade design without any fuss." For Sam, Stay Bold was a project centered around enjoyment and exploration, something created purely for the fun of it.
Fresh ideas and methods play a large role in his creative style, particularly because he crafts everything by hand. With Stay Bold, he originally intended to use acrylic paint but discovered that it didn't quite flow the way he wanted. Instead, he used a long, round paintbrush and fountain pen ink to design its letterforms. The only real drawback to using that particular media was that it consumed a ridiculously large amount of ink, given the heaviness of the characters. He went through nine bottles to craft Stay Bold, a casualty he attributes, in part, to his perfectionism.
Sam wanted to keep the letterforms fairly basic while maintaining a loose flow with a contemporary style, a goal he certainly reached with this type design. Without the worry of connecting the characters as he would with a cursive font, Stay Bold's creation moved rather swiftly, taking only about two weeks to complete.

The structure of the font and its given name are quite a natural pairing; the title describes the letterforms perfectly. The process of naming this font was not instantaneous, however. "You'd probably think it was a no-brainer but it actually took me a little while to settle on the name," Sam told us. "It's sometimes a really tough part of the job. I was initially trying to market the font as something more abstract, like those hipster fonts with loads of cool geometry and extra lines everywhere." He planned to include a number of geometric shapes and symbols to accompany the character set, but he found they lacked harmony with the brushed style. After sleeping on it, he was hit over the head with an epiphany. "I just needed to embrace it for what it was: a big, bold, and no nonsense display font. 'Stay Bold' perfectly fit the bill and the rest was history."
Stay Bold is a confident and courageous type design that won't back down when life gets rough. It faces everything head on, unapologetically. It's totally in-your-face without coming across as intimidating because it's entirely comfortable in its own skin, or ink, as it were.
Stay Bold is a fantastic choice for eye-catching signage, large displays, advertising, product packaging, apparel, merchandise, promotional materials, branding, labels, book covers, album art, and logos that need to impart a sense of unyielding self-confidence. No special software is required to use this type design, and it provides multilingual support to English, French, Italian, Spanish, Portuguese, German, Swedish, Norwegian, Danish, Dutch, Turkish, Polish, Finnish, Indonesian, Filipino, and Malay for global accessibility.

If you love expressive, handcrafted type designs, look no further than Set Sail Studios' portfolio on YouWorkForThem. With 35 products currently available, you're sure to find the perfect font for your next project. Sam's super excited about his latest font duo, Backlash. "It's a passionate pair of marker pen fonts which includes a script version and a supporting all-caps version," he said. "It's a really fun one to play around with!"
With amazing fonts being released on the regular, Set Sail Studios is one you're definitely going to want to keep an eye on.