In 2013, Alexander Kudryavtsev and Ivan Gladkikh established the TypeType foundry, one of the first dedicated type foundries in St. Petersburg. From the moment TypeType was launched, the foundry has placed an emphasis on collaboration with graphic designers and engineers, all in a ceaseless pursuit to release unparalleled type designs for a contemporary market. A result of their dedicated effort, they've worked with international corporations like McDonald's, Acer, and just about every child on Earth's favorite company, Lego.
TypeType's fonts are carefully drawn by hand before they are tested and optimized to achieve the highest quality end product. As a general rule, their releases provide extensive multilingual support for a global market, a wide range of weights and widths within each family, and a degree of affordability that allows graphic designers to purchase their products without breaking the bank in the process.
One of TypeType's most recent releases is TT Berlinerins, a pair of fonts comprised of both a bold sans serif Grotesk and an elegant Script. Designed as a visual tribute to Berlin, Germany, Berlinerins beautifully represents a century of the city's history. Ivan himself draws much inspiration from the typography found in the locations he travels, a muse that acts as a catalyst for much of his work.
"The idea of this project emerged in the beginning of 2016 when we met Evgenia Pestova, a calligrapher from Berlin, who shared the contemporary perspective on calligraphy and the city impressions with us," TypeType said. The calligraphic Script is the visual representation of modern-day Berlin, capturing its elegance and vivacity in a distinctive brush script.
Its heavier Grotesk counterpart is based on the first 30 years of the 20th century, a period of time when wood type was commonly found on posters and signage around Berlin. Together, Berlinerins Grotesk and Berlinerins Script celebrate the visual polarity of a legendary city, each in their own unique way, while remaining perfectly complementary to one another.
Berlinerins is an incredibly versatile duo of type designs, appropriate for everything from displays and signage, advertising, branding, identity, logo design, product packaging, invitations,  headlines, and book cover designs. It's packed with features that include numerators, denominators, fractions, standard ligatures, tabular figures, and stylistic alternates. Script has nearly double the glyph count (998), offering contextual alternates and a gorgeous set of swash options for additional flexibility.
Berlinerins extends multilingual support to Basic Latin, Western European, Euro, Baltic, Turkish, Central European, Romanian, Pan African Latin, Latin Ligatures, Basic Cyrillic for incredible global accessibility.
Right now through June 27, 2017, TT Berlinerins is on sale for 50% off of its regular price so it's the perfect time to add this one to your collection!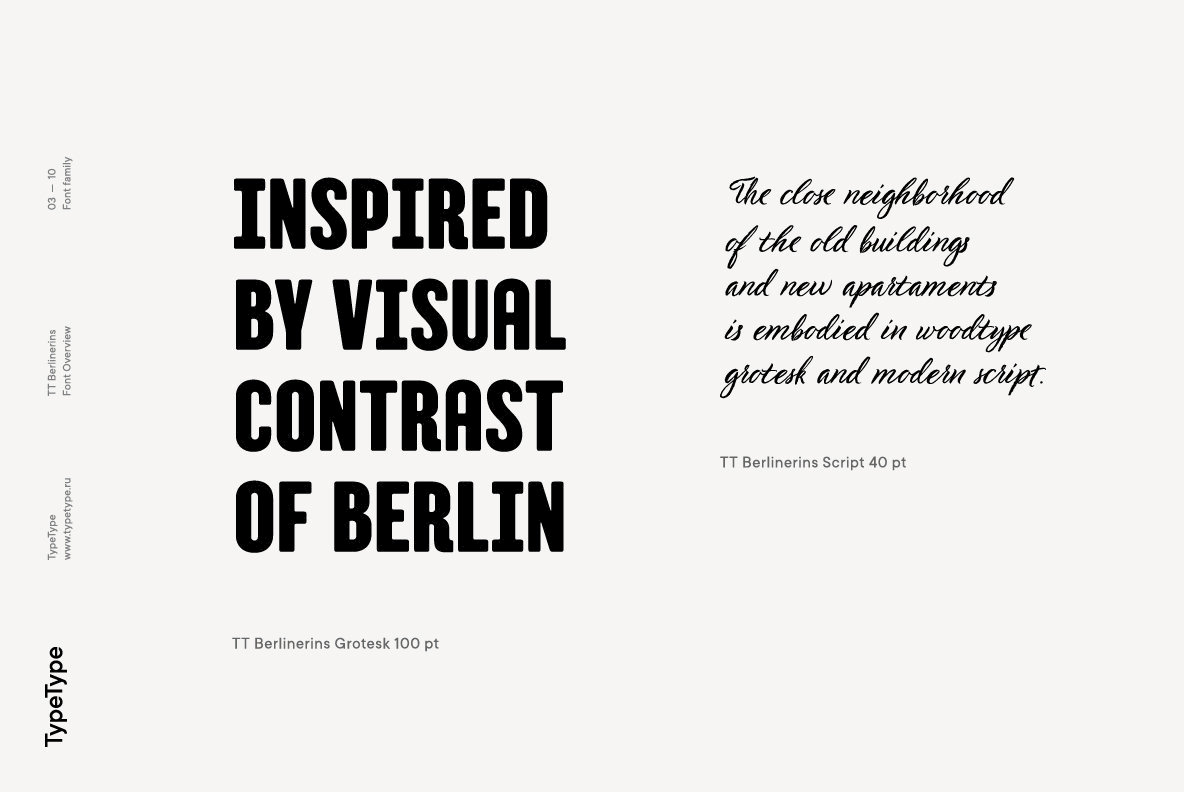 TypeType currently offers 43 products on YouWorkForThem and we're always excited to see their new releases. Visit their portfolio to see the rest of their work, purchase your favorites, and bookmark it to watch for new additions!