Connary Fagen is a graphic designer and typographer with a substantial background in art direction, identity, illustration, web and UI design, motion graphics, and of course, type design. "As a designer, I noticed early on how much typography affected the quality of my work," Connary told us. "I wanted to better understand the mechanics behind good type, which led to me developing original typefaces." This skill set also enabled him to augment his own font library, strengthening areas he considered weak points by providing himself with letter sets he wanted to use in his own projects.
His efforts have yielded considerable success in a relatively short amount of time. Connary's typography has been licensed by major companies that include Bed Bath & Beyond, Land's End, and Discovery Digital Networks. While he offers eleven products through YouWorkForThem, he also accepts commissioned work for unique, one-of-a-kind typefaces.

Connary's comprehensive experience has given him a keen eye for what makes a type design work: solid construction, extensive testing, and thorough attention to detail. He admits that when he first began designing fonts, he perceived those three areas as particular weaknesses and set out to improve his mastery in each, ultimately refining his craft as he progressed. "I often use my own typefaces in other design work to give them field testing, get them in front of real clients, and work out any kinks," he told us.
His methodology clearly works because three of his fonts — Greycliff CF, Argent CF, and Cartograph CF — secured spots in our Top Ten Fonts of 2016.
One of his latest releases, Addington CF, is Connary's third serif typeface. Putting his past experience and the evolution of his type design ability to good use, he wanted to carry the warmth and personality of curvier serifs from the 70s and 80s into a clean, contemporary typeface with broad usability. He succeeded in his task with Addington CF.
"I sought to create a serif that I would want to use in my own work all the time," Connary explained. "A typeface that could be used for body copy without being distracting, yet had interesting features and a degree of elegance when used at large display sizes."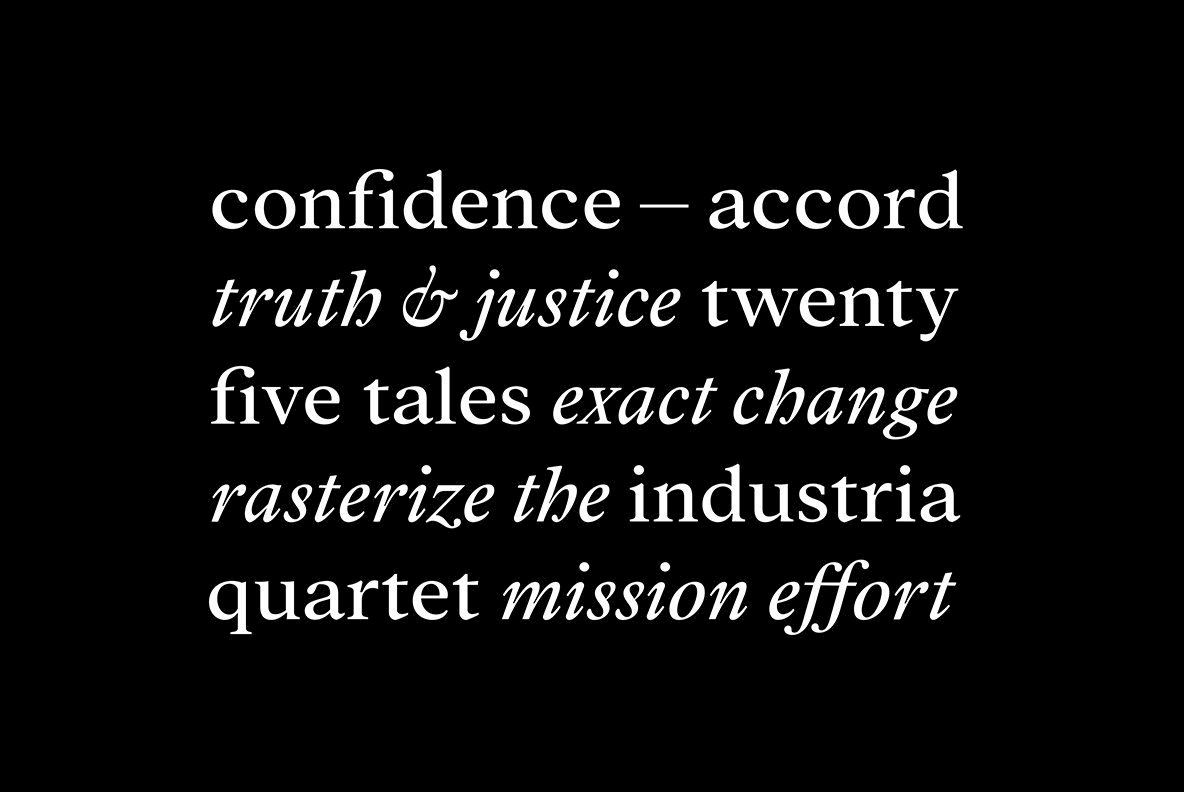 Addington CF conveys sleek sophistication and elegance without harshness or pretense. This modern classic sings in printed publications, offering comfortable legibility with superlative style. Understated calligraphic elements lend an atmosphere of chivalry, its polished letterforms exuding a dignified confidence wherever they are found. Addington CF is appropriate for a wide variety of design projects that include branding and identity, headlines, editorials, advertising layouts, letterhead, corporate communications, white papers, web content, mobile applications, and book publishing.
"I like how Addington feels when it's being used," Connary said. "It looks classic and reassuring, but it has vibrancy and freshness too. Addington is built in a way that the letters fit well together and everything looks at home on the page (or screen)." He prefers real italics to obliques, something that in his opinion makes a font stand out from the rest, and he's especially proud of how well Addington CF's italics turned out. "I put a lot of extra time and energy into them, and I think they're my best italics yet," he said, noting that Identifont's Stephen Coles gave Addington CF good marks and that he also took notice of Connary's progression from his earlier work.
"I'm very happy with how it turned out and the warm reception it's received," Connary expressed. "Designers should not be afraid of using serif typefaces – they're wonderfully expressive, and our modern, high-resolution screens can render them as beautifully as print."

Addington is available in six weights that range from Light to Extra Bold, with corresponding italics for each. It's loaded with extra goodies, including standard ligatures, discretionary ligatures, fractions, lining figures, tabular figures, and stylistic alternates. Multilingual support extends to Basic Latin, Western European, Euro, Catalan, Baltic, Turkish, Central European, Romanian, Pan African Latin, Dutch, and Basic Greek, however Cyrillic support is in the works and will be an added update in the future.
If you love Addington CF as much as we do, you have to check out the rest of Connary Fagen's portfolio and bookmark it to watch for new releases and updates. Dedicated to providing excellent, long-term support, Connary told us, "I spend a lot of time going back to my older typefaces and improving them – adding features, cleaning up shapes, removing bugs – and these updates are free!" With that in mind, be sure to head back to YouWorkForThem once in awhile and re-download your fonts to get the newest versions.

As for what's coming next, like so many of us Connary always seems to have several ideas brewing in his head at any given time. "Right now I'm working on a script typeface, but it will be a lot different from the brush script fonts that are popular right now. More angular, with lots of stroke contrast. It should be interesting," he confided.
Knowing his stellar work, we'd expect nothing less from him and we're really looking forward to his future releases.