Founded in 1989, DTP Types Limited emerged as one of the first digital type design establishments to operate within the UK. The company was clearly marked for great success early on, having been launched by Malcolm Wooden, a seasoned designer who had spent more than 15 years in product development for Monotype Typography. Bringing with him a remarkable degree of experience in the field of type design, Malcolm's legacy has taken DTP Types Limited to the next level, providing font software that benefits designers as well as other type foundries.
In addition to their font software and original type designs, DTP Types Limited also offers their clients customized designs, the digitization of logos and handwritten creations, TrueType hinting, and a range of other services to font foundries. Being familiar with the way graphic designers work, DTP Types Limited produces letter sets that are inherently useful and versatile, and they remain focused on adapting their products to the ever-changing tides of technology.
DTP Types Limited currently offers 38 products on YouWorkForThem. Their portfolio presents a wide variety of styles including decorative types, clean serifs and sans serifs, elegant scripts, and even practical dingbats.

Beverley Sans DT is an informal and spirited sans serif with calligraphic tendencies. Featuring a confident personality that walks on the more adventurous side of life, Beverley Sans DT is striking in its overall presentation, making it an excellent choice for projects that take a playful yet assertive approach to their design. Advertising layouts, editorial spreads, branding, and product packaging will radiate an energetic vibrance that instantly captures the viewer's attention.

Delargo DT Condensed is a contemporary sans serif with a no-nonsense personality that delivers any message with approachable authority. Five weights with corresponding italics offer impressive design flexibility for modern advertising spreads, strong editorials, bold headlines, stylish publishing layouts, impactful posters, and a host of other projects.

Delargo DT Informal was designed by Malcolm Wooden. This hearty sans serif is unassuming in its demeanor, yet it carries a sense of self-assuredness that bleeds confidence into every design. Delargo DT Informal is a powerful choice for branding and identity that instills consumer trust, and its excellent legibility makes it ideal for web and mobile applications, editorial use, business card layouts, publishing, advertising, and product packaging.

Elisar DT provides strength and stability while maintaining complete neutrality. This strapping sans serif offers classic styling and flawless legibility, an ideal choice for corporate communications, white papers, publishing, mobile and web applications, and editorials. Five weights with corresponding italics provide designers with a lot of versatility, particularly for meaningful branding, identity, advertising, and signage.

Finalia DT Condensed is a graceful serif type design with classical styling. Elegant and sophisticated, Finalia DT Condensed is absolutely striking in printed publications and editorials, upscale advertising layouts, and product packaging that markets to a contemporary clientele.

Fuller Sans DT is a strongly-built, modern sans serif available in six weights with corresponding italics for each. Clean legibility is a hallmark of this type design, which makes it especially useful for editorials, website content, mobile applications, corporate communications, business card layouts, branding, and identity.

Fuller Sans DT Condensed is a slightly more condensed version of Fuller Sans DT, featuring a taller and slimmer silhouette for a more contemporary appeal. Fuller Sans DT Condensed offers six weights with corresponding italics, ranging from ExtraLight to Black for incredible design versatility. This font is robust yet refined, an excellent choice for advertising, editorials, branding and identity, headlines, letterhead, and any project that takes a straightforward approach to its design.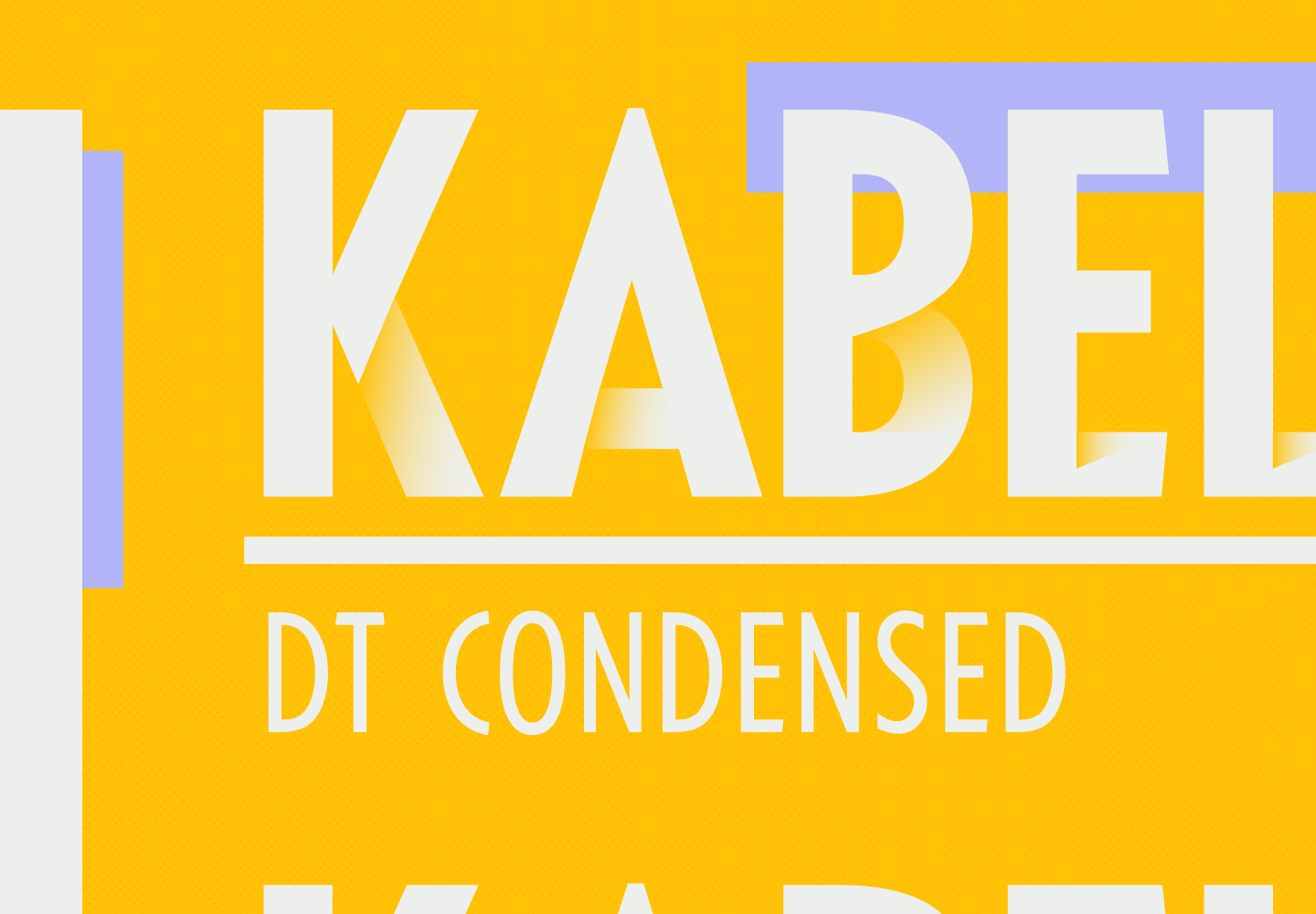 Kabel DT Condensed is a smart and stylish geometric sans serif. With letterforms whose shaping instantly brings to mind the Art Deco era, Kabel DT Condensed strikes a perfect balance between modern aesthetics and classical design. Available in four weights, this is a particularly tasteful choice for trendy advertising layouts, chic branding, and eye-catching signage.

Sentico Sans DT Condensed is a contemporary sans serif available in six weights with corresponding italics for each. Ranging from Thin to ExtraBold, Sentico Sans DT Condensed takes a subdued approach to its square letterforms. Softly rounded corners lend poise to this type design, making it well suited for a wide variety of projects including editorials, headlines, advertising, corporate communications, publishing, branding, and identity.
If this selection of fonts has piqued your interest, you definitely won't want to miss the rest of DTP Types Limited impressive portfolio. Purchase your favorites today and bookmark it so you won't miss future additions!