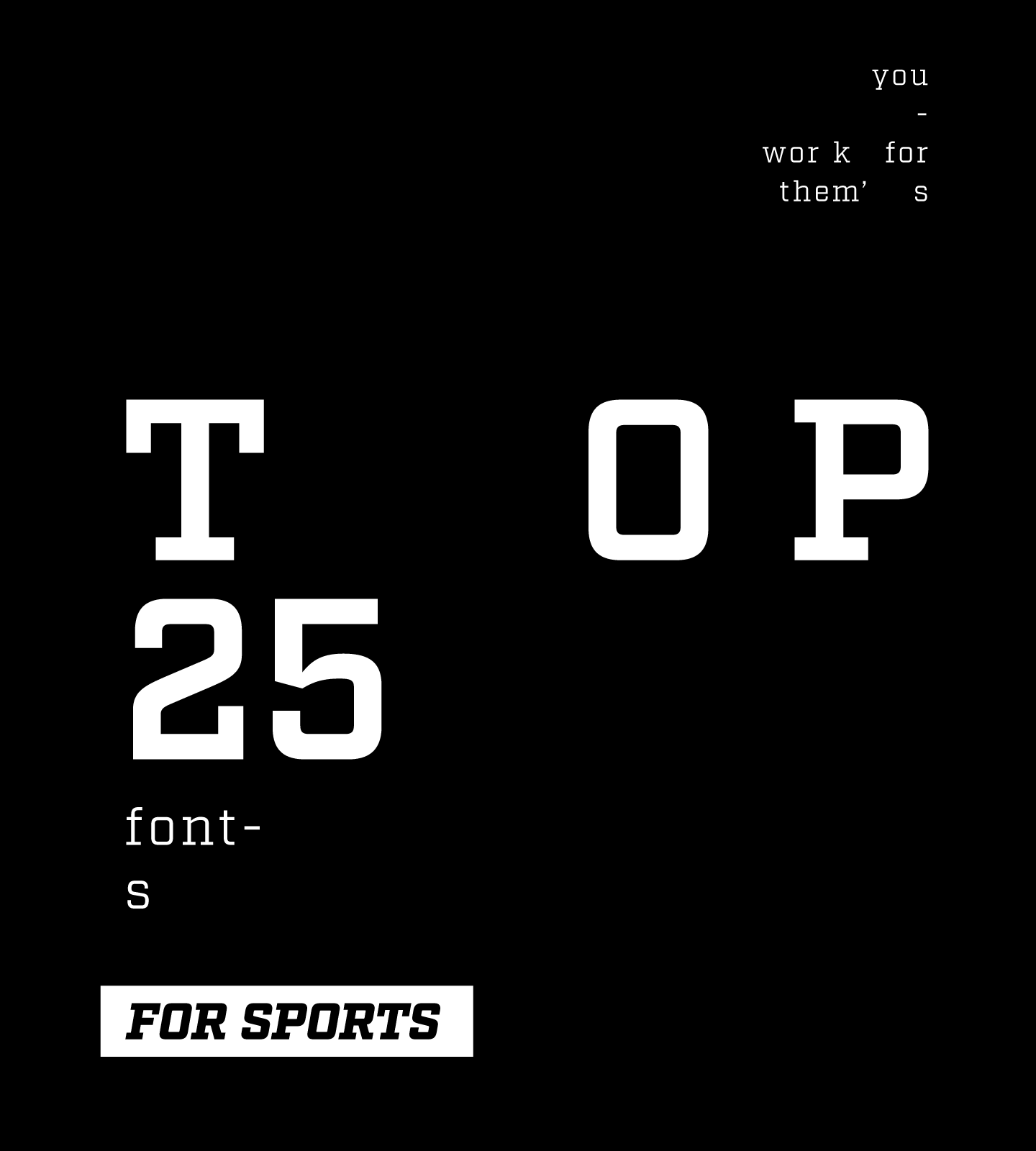 Football season is just around the corner! For those of us who bleed our favorite team's colors, there's no better time of year to explore the best fonts for sports-themed designs. To celebrate athletic endeavors everywhere as we wait patiently for football season to begin, YouWorkForThem has put together an awesome collection containing our Top 25 Fonts For Sports.
Put on your favorite team jersey, grab a beer along with your favorite pregame snacks, and get ready for some excitement!
YWFT Burls is a masculine font that comes fully stocked with a six-pack of retro appeal. Built like a linebacker, YWFT Burls is sturdy and impenetrable – a solid, dependable font that always has your back. Whether you're designing a layout for football, wrestling, or any other sport that thrives on toughness and physical strength, this font is a terrific first-string teammate.
Cinderblock takes graphic layouts to incredibly new heights. Cinderblock is built upon a solid foundation of eight fonts, each one 25% taller than the last. The result is a carefully constructed architecture of letterforms that, when carefully typeset, will create a durable wall of text. Created by Stefan Kjartansson, Cinderblock is fantastic in large displays and sports-themed posters.
Defense is a family of slab serif stencil fonts with a rigid, no-nonsense attitude. Leaving a strong military impression, Defense is an excellent choice for graphic designs that command authority and strike fear into the hearts of their opponents. Serious and stoic, Defense stands up well in product packing, branding, and advertisements for athletic goods or sports teams.
Doedel is a retro brush script with a softer, much more playful personality. Particularly well-suited for baseball and softball-themed designs, Doedel calls to mind long idyllic summer days spent as a player on the ball field or a fan in the stands.
YWFT Estenceler is a modern, masculine stencil font. The bold, unicase letterforms of YWFT Estenceler are ideal for any school or university sports designs for athletic apparel, posters, or fan gear.
Factoria is an industrial slab serif heavily steeped in varsity appeal. Don't let its name fool you; Factoria may sound like it belongs in the manufacturing sector, but one look at its clean, geometric design will demonstrate its usefulness in sports-themed design layouts.
Fan Script is a sleek, heavy brush script that's packed with alternates and ornaments. Appropriate for a wide range of sports and branding, Fan Script is a strong choice for graphic designs that seek a fashionably vintage vibe. Fan Script looks terrific on t-shirts and other sports apparel, displays, and advertisements.

Fierro takes a straight-edged, angular approach to slab serif. Featuring a heavy construction, Fierro is modern and masculine, with a slightly military manner that adds a visual toughness to any sports-themed design.

Grand Canyon finds its inspiration in vintage wood type. A slab serif font family, Grand Canyon is comprised of solid letterforms and outlines that lend a sporty attitude to varsity designs. This font looks particularly great in displays and on team apparel.

Impact is a heavy serif font that demands attention. Ideal for strong branding, headlines, and bold displays, Impact perpetuates a tenacious influence that diehard sports fans will definitely notice.

International is a contemporary triple-line font designed by Lee Shultz. The sleek, geometric lines of International are particularly well-suited for outdoor field sports' graphics, including soccer, football, and track.

YWFT League is a family of football-jersey-inspired fonts that are especially appropriate for school-aged youth sports leagues. Featuring six weights and a retro vibe that's reminiscent of the days when we played flag football and t-ball as children, YWFT League is an excellent choice for product packaging, branding, logo designs, posters, and flyers.

Maritime Champion is a bold, all-caps display font from Kyle Wayne Benson. With lines that curl like waves on the ocean, Maritime Champion is an awesome font choice for designs centered around swimming, diving, boat racing, or competitive Kraken-hunting.

Motiva Sans is a clean sans serif font that offers a host of OpenType features, including fractions, oldstyle figures, and extended language support. Motiva Sans is fluid and versatile, making it a great font for displays, advertisements, flyers, and editorial applications for just about any sporting event.

Motorcross Pro is a seriously heavy display font for bold presentations. Supporting 131 languages, Motorcross Pro is ready to take on the entire world. This font is especially good for large-scale signage or advertisements, and posters that intend to leave a lasting impact on the viewer.

YWFT Motown consists of five geometric serif fonts with a distinctly vintage style. Like old-fashioned, rabbit-ear antennas from decades ago, the tilted crossbars of YWFT Motown emit a slightly retro vibration to this otherwise modern type design. Advertisements, flyers, and apparel will appeal to younger and older audiences, making this a versatile choice for sports designs.

PF DIN Stencil is a modern, sophisticated stencil font with a decidedly stylish edge. With eight weights ranging from a whisper-thin Hairline to a powerful Black, PF DIN Stencil is an incredibly flexible font choice for a wide variety of modern athletic graphic layouts.

PowerStation is a robust sans serif font from Alphabet Soup. Featuring a variety of beveled letterforms and outlines, PowerStation is a heavy-hitting choice for large athletic displays, apparel, branding, team logos, and posters.

Raleigh Gothic is a condensed sans serif with a retro spirit. Raleigh Gothic is cool and athletic, with a freshness that's perfectly at home in modern sports-themed designs. This font is great for advertisements, sports apparel, and athletic fashion spreads.

Sol Pro is a smooth, linear sans serif type design with a digital edginess that looks toward futuristic horizons. The geometric letterforms of Sol Pro are sleek and contemporary with plenty of confidence that appeals to fit athletes in the prime of their lives. This font is an excellent choice for athletic logos, advertising, and branding.

Speedometer's condensed width exudes a sense of swiftness and movement within its letterforms. Best used in larger displays and signage, Speedometer exhibits a tangible need for life in the fast lane.

Sporta is a rounded sans serif whose graceful curves will deliver any message in a friendly and approachable way. Contemporary and stylish, Sporta draws upon the essence of athletic flexibility and the resilience of the human body in motion. This font family is a terrific choice for advertising, branding, and casual athletic apparel.

YWFT Trisect is a family of eight retro-inspired, triple-lined fonts. The easy, rounded curves of YWFT Trisect recall the lines around a track, the place where runners throughout the world will feel most at home. This font adds a warm, vintage flair to athletic branding, logo designs, advertisements, and posters for field sports of all kinds.

YWFT Unisect was actually designed as a sister to Trisect. This gorgeously rounded sans serif is legible even in very small point, making YWFT Unisect an especially excellent choice for advertising spreads, brochures, sports programs, and athletic apparel.

Vibro is a quadruple-lined type design that straight-up conjures imagery from the unforgettable era of disco. Like an endlessly pulsing dance beat that refuses to waver, Vibro is pure sound and motion. This font is perfect for sports-themed posters, billboards, advertisements, and displays designed to evoke a sense of excitement in the viewer.
Whether you enjoy playing sports yourself or you prefer watching them from the sidelines, these 25 fonts have come together to create an unstoppable design team for sports layouts. Choose your favorites today and get ready to play ball!