It's a mad, mad, mad world of graphics out there, people, but fear not–for as somebody said, "lists bring order to chaos," and we've got one for you that is chock full of awesome. From a custom neon sign generator to multiple texture sets from GhostlyPixels (this year's big winner with five nods), these ten graphical triumphs bring the awesome and bring it with confidence. Without further ado, ladies and gents, here are your Top Ten Stock Graphics of 2015! (Ranking is based strictly on sales.)
This Photoshop template allows you to write whatever you want as a photo-real neon sign. Custom designed in 3D and converted to layered graphics, this truly awesome tool takes the gold.
The first of five from Texas's own GhostlyPixels, this pack of ten vector textures originated with high-resolution photographs of actual surfaces, and comes in with the silver.
The third-place winner contains 12 full-page, authentic vintage flavored textures, suitable for every subtly distressed situation–and the bronze for GhostlyPixels.
In fourth is this incredibly useful branding kit, containing 24 badges and 41 icons all set up for you in Illustrator format, with text layers ready to be customized for your needs.
220 Photoshop Actions for one low price, including Retro, Light Leak, Film & Cinematic, Chill & Subtle, Light & Seasonal, Black & White, Fashion & Blush, and Photo Retouching Tools. Bring this power home!
Ten high-res photos provided the basis for these ten finely-detailed, full page textures for all of your vintage texture needs, another one from GhostlyPIxels.
The awesome BLKBK knocked the ball way out of the park this year, and this powerful handset is a big part of why. Hand-brushed, precise strokes make this vector EPS the script that must be flipped…into your cart.
RuleByArt's set of 25 vibrant, 300 DPI images are reminiscent of watercolor, stained glass and dyed fabric, and the high quality allows you to zoom in for endless compositions.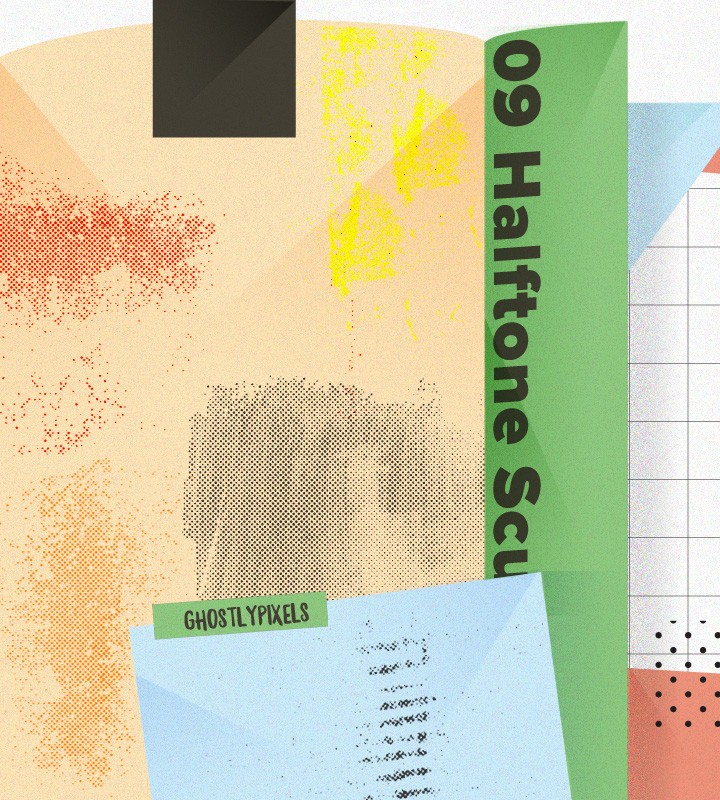 GhostlyPixels's penultimate winner brings ten edge-management texture solutions, all of which are completely edge-free. Rough up your design and drop a scuff on it for some worn flavor.
GhostlyPixels again, rounding out the Ten Best with ten full-page EPS vector halftone textures that evoke the flavor of the vintage printing process from simpler times.