Beginning right now, you can install all YouWorkForThem fonts on your iOS 7 devices, and use them in any application that supports fonts, such as Pages, Numbers and Keynote… and it's free.
Here's how: Log in to YouWorkForThem with your iPhone or iPad using Safari, and in all the downloads areas (Dashboard, Downloads, Order History) you will now see a new "Install on iPad/iPhone" button in addition to the Download button. Click this and follow the iOS instructions (shown in the video above). To see what fonts are installed on your device, open "Settings," select "General" from the left column, and then "Profiles" from the right column.
Download Fonts at YouWorkForThem
Login to YouWorkForThem using your iPad or iPhone. Then proceed to the Dashboard, Order History or Downloads section of your account and you will see a new "Install on iPad/iPhone" button, depending upon your device.
Once you click Download, it will ask you to install a profile. For downloads that contain many fonts (like a Complete Family), please allow a few seconds for the profile to generate.
Next it will ask you to confirm if you want to install this unsigned profile, and it may ask you to enter your password. In order to proceed, enter your device password (simply a confirmation/security measure by your Apple device) and click "Install Now."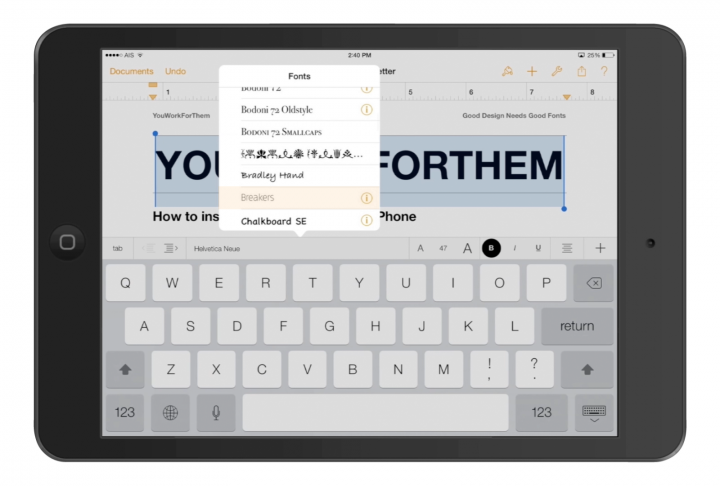 Once the install is complete, you can open an application like Pages on your iPad/iPhone. Once the app is open, select some text and click the option to modify the text. You will now see your new YouWorkForThem font(s) listed in the options.
One thing that might not be obvious at first, is how to access all the font weights and styles. You will need to click the icon of the "i" inside a circle to display all the available weights for the font. (Please note, OpenType features are not widely supported yet in iOS 7 devices.)
That's it, very quick and easy, and a very cool way to modify your iCloud and iWork docs with YWFT fonts anywhere you are.