Sam Parrett is the creative genius behind Set Sail Studios, an incredibly successful online store that offers a wide range of useful products for graphic designers. Being a skilled designer himself, Sam has a genuine understanding of what the design market really needs, an awareness that has helped to build his reputation for pure awesomeness.
If you think we're kidding, one look at our Top Ten Fonts Of 2016 is all the proof you'll need; Sam's typography took the top two (and three out of ten) spots in the list. The UK designer prefers a hand-crafted approach to his work, a method that organically develops a rich and unique personality within each type design. Sam's work is dynamic and intensely expressive, characteristics that are once again on full display in his latest release, The Wayfaring Font Duo.
This pair of hand-painted type designs features a spirited script and its small caps companion, the perfect compliment to one another. The Wayfaring Font Duo revels in its perfect imperfections, subtle flaws that give it deeper character. This type design is steeped in rustic charm, making it an ideal choice for projects that need an earthy, organic approach to their design.
Wayfaring Font One and Two are script lettersets that feature bold brush strokes with a buoyant personality. Both will work well enough on their own, but using the two together will allow you to create "handwritten" custom variations in words or phrases.
Wayfaring Font Smallcaps is a set of uppercase lettering that acts as the perfect accompaniment to either (or both!) script designs. As Sam said, you can really shake things up by adding a small-caps character to the middle of a script word. Try it for yourself to see what you come up with! Experimentation is generally a pretty fun thing to do. (Unless you're experimenting with explosives or venomous snakes… then it's considerably… well, less fun.)
The Wayfaring Font Duo is a whimsical and friendly type design that's quite at home in apparel designs, logos, social media imagery, product packaging (particularly for organic foods), advertising, merchandise, wedding correspondence, book covers, and any project that needs a handmade touch.
The Wayfaring Font Duo offers a series of discretionary ligatures and its multilingual support includes English, French, Italian, Spanish, Portuguese, German, Swedish, Norwegian, Danish, Dutch, Turkish, Polish, Finnish, Indonesian, Filipino, and Malay.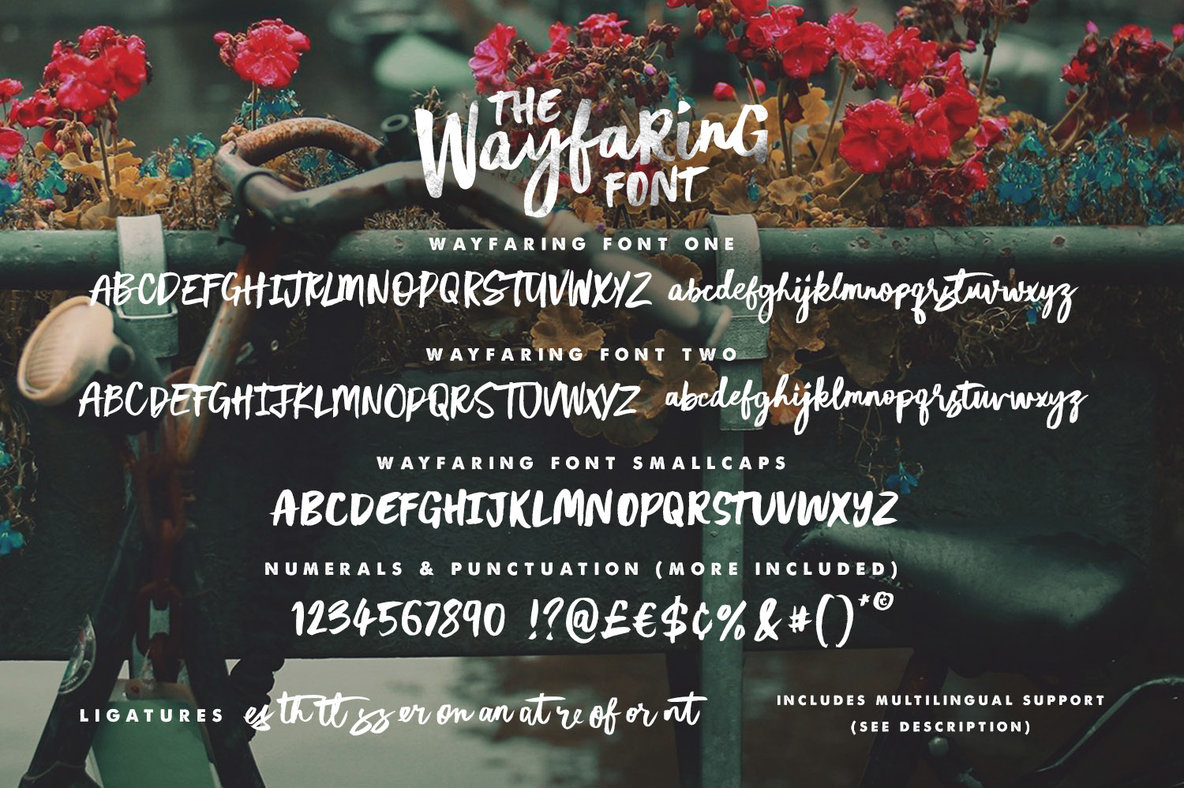 Sam currently offers 34 products through YouWorkForThem, and if you love handcrafted type design with a lot of personality, you won't want to miss the rest of his portfolio. We always look forward to releases from Set Sail Studios so keep an eye out for new additions!