Mark Butchko is the prolific illustrator, animator, graphic designer, and typographer who runs the Central Type Company, an independent type foundry in Chicago, Illinois.
Mark is a huge fan of 60s and 70s graphic design, an aesthetic that plays a dominant role in much of his own work. His appreciation and fascination with the typefaces featured on beloved movie posters, album covers, and book jackets from those decades eventually led him to try his own hand at typography. "Type designers such as Ed Benguiat, Tom Carnase, Herb Lubalin, Ronne Bonder, and Colin Brignall created fonts that had such distinct personalities and an overall sense of fun that had a huge impact on how pop culture of that era looked," Mark told us. "Inspired by those type design giants, I started to get a few ideas of my own that I wanted to explore."
In 2011, Mark released Idler, an all-caps, multilayered font family that was designed for creating big, bold displays and headlines. Six years later, he felt it was time to revisit and reevaluate Idler, seeking ways to improve and expand upon the original.
"Overall, I felt the general look and feel of the original Idler still held up and felt contemporary," he began, "but it had some technical and design deficiencies that I knew I could greatly improve upon. The mostly glaring problem was the original's lack of lowercase letters, but six years of studying and practicing type design also gave me the skills and knowledge really redraw and improve EVERYTHING."
Having worked with the program, Glyphs, for a few years, Mark was keenly familiar with its capabilities, noting that it offers tools specifically designed for building layered typefaces. "This allowed me to work a lot faster and be far more precise with my layering than I was before with more primitive methods," he observed. From start to finish, the process took about four months, in spite of starting over from the beginning.
"Though I definitely wanted to maintain the look and feel of the original Idler, I decided to start from scratch with Idler Pro and build everything from the ground up," Mark told us. "Though the original design was my loose guide, I didn't want to constrain myself too much and I constantly looked for ways to achieve better proportions, letter fitting, and overall harmony between the characters."
Particularly with layered typefaces, the process of ensuring that everything remains in perfect alignment and performs exactly as intended can be exceedingly delicate. "And once you start expanding the diacritics and other international characters, things really start to get challenging and complicated," he added. "This was definitely the case with Idler Pro. It just took a lot of testing and refinement in order to ensure that it looked right and the layering worked properly across the hundreds of characters within the font."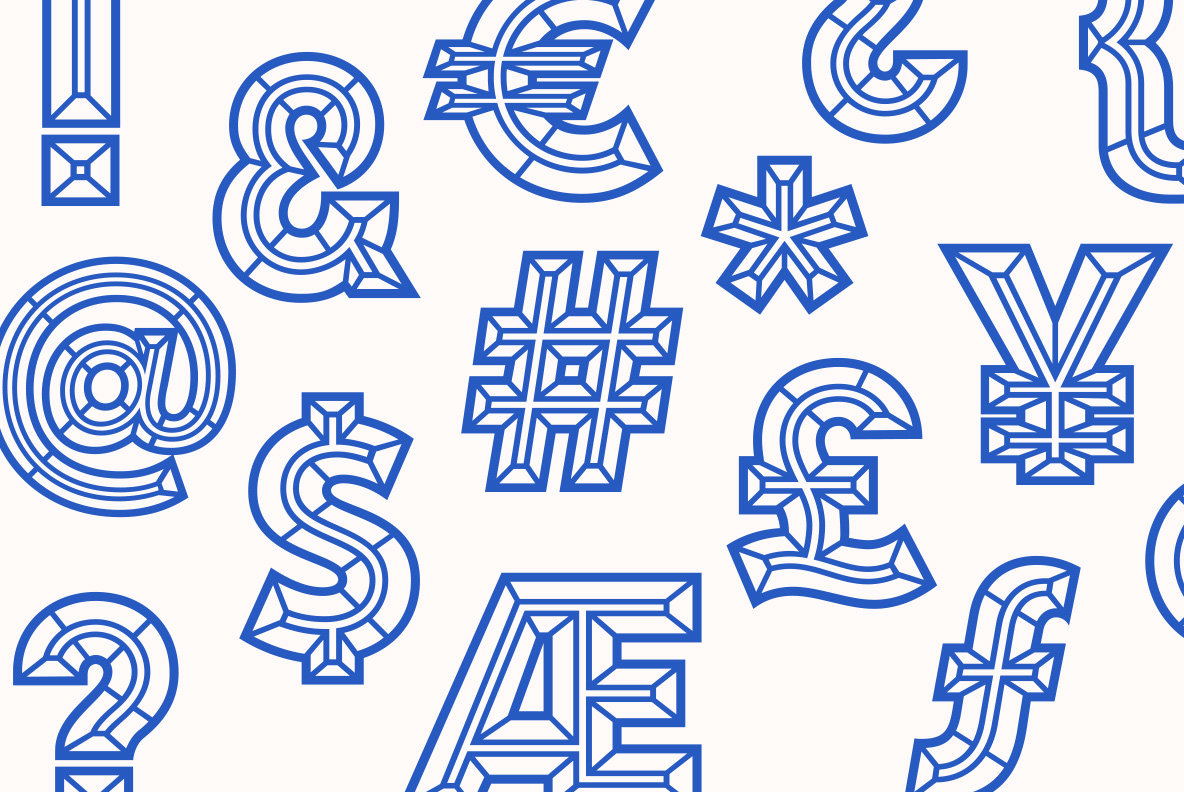 This was made infinitely easier with the use of Glyphs. "It makes everything about the process so much more fun and painless. You're able to assign different colors to specific layers which allows you to view your layers stacked up as your working on them. This way, you don't have to constantly export OpenType files and work with them in Illustrator to see if everything is lining up correctly. You can test them out live within Glyphs while you're modifying and refining your paths. This really allows you to work faster and be far more precise with your layering. Also, Glyphs is very smart about keeping letter spacing and kerning in sync for all layers."
The resulting Idler Pro is nothing short of amazing and well worth Mark's efforts. Offering six variations that include Highlight, Plain, Detail, Inner, Shadow, and Solid, designers have a world of possibilities at their fingertips. Bold headlines, three-dimensional displays, eye-catching advertising, brilliant posters, retro-treated product packaging, and vintage-inspired signage are a piece of cake with Idler Pro.
Multilingual support extends to Basic Latin, Western European, Euro, Baltic, Turkish, Central European, Romanian, and Pan African Latin for worldwide accessibility.

Central Type Company currently offers three products through YouWorkForThem. "If you enjoy Idler Pro, make sure to check out my other two typefaces, Cadet and Rodger," Mark suggested. "Neither one is layered like Idler, but they are both multi-weight type families that display a similar nostalgic influence."
He's also working on a new layered typeface that he hopes to release at the end of summer, so keep an eye on his portfolio. "It's well under way and I'm very happy with the results so far," Mark told us. "It, of course, looks nothing like Idler, but I hope that people will find it just as appealing and useful."
Given his body of work so far, we have no doubt that they will.