Set Sail Studios is an online store owned and operated by Sam Parrett, a graphic designer and typographer in Bristol, UK, who sometimes likes to lay on the floor and pretend he's a carrot. (And really, who doesn't enjoy doing that every now and again?!) Perhaps the result of six years spent working as a graphic designer in the music industry, much of Sam's typographical portfolio involves handwritten scripts that reveal an abundance of passion and emotion through their letterforms.
One of his most recent releases is the appropriately-named Scrumptious. "Last year I released a few 'signature-style' fonts which were really successful, and I was wondering if I could try a different spin on that same idea," Sam told us. "The goal was to design something a bit less formal and a bit more fun and playful."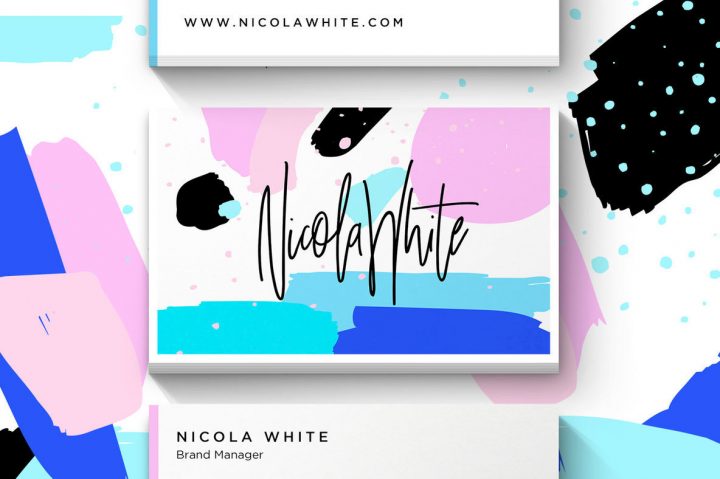 Scrumptious is a script design that's bursting at the seams with spirited excitement, conjuring a visual sensation of energy pouring through every impulsive stroke. Scrumptious is exhilaration incarnate, an energetic and joyful take on signature-style handwriting.
"I actually put a lot of focus into creating inconsistencies within the font, which I guess is pretty out of the ordinary for a typography project!" Sam explained. "But that was definitely a fun part – there was no strict guideline to the letterforms so I enjoyed letting loose with the pen strokes."
Scrumptious features three separate sets of letterforms, allowing graphic designers to mix-and-match their letters to develop truly unique, "handwritten" variations within their work. "Because the letters were so inconsistent, and the font includes three character sets, it was quite difficult ensuring they all connected correctly and looked like natural handwriting in every scenario," Sam observed. "That resulted in an extra day or two of kerning, which I know most typographers dread but I actually find it weirdly therapeutic, kind of like a giant jigsaw puzzle!"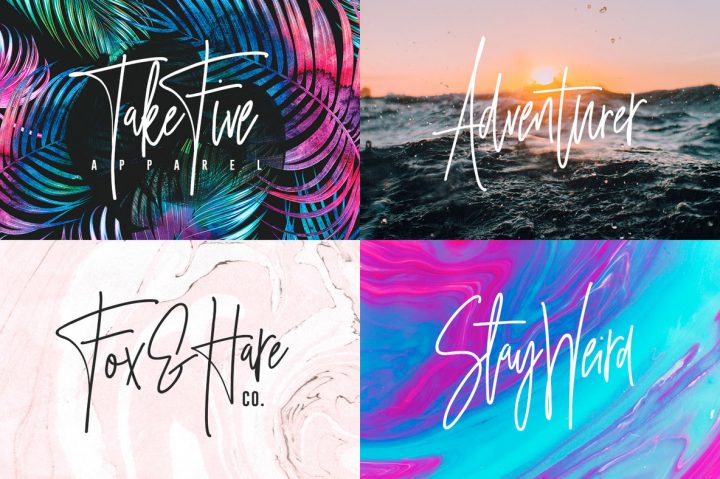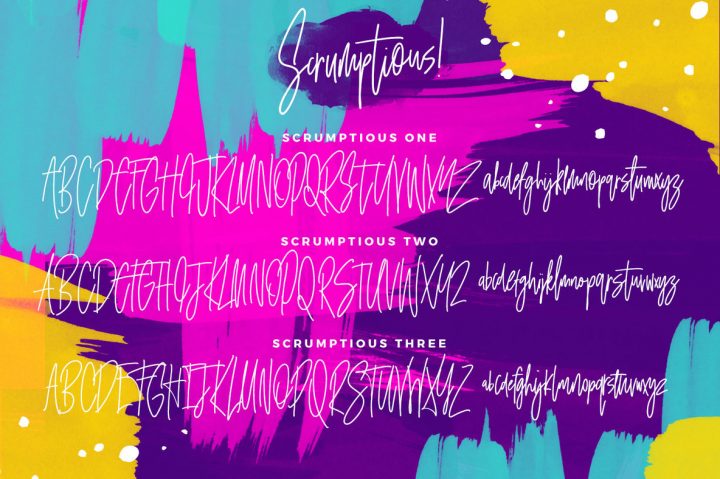 Logo designs, branding, album covers, book covers, product packaging, merchandise, illustrated quotes, and digital artwork will fully embrace the cheerful and carefree enthusiasm of Scrumptious. Scrumptious offers both upper and lowercase characters within each version, numbers, and an extensive range of punctuation for greater design flexibility. Multilingual support includes English, French, Italian, Spanish, Portuguese, German, Swedish, Norwegian, Danish, Dutch, Turkish, Polish, Finnish, Indonesian, Filipino, and Malay for worldwide accessibility.
If you enjoy working with handwritten fonts, you definitely don't want to miss the rest of Sam's portfolio on YouWorkForThem. Three of his type designs made it onto our Top Ten Fonts of 2016. Set Sail Studios currently offers 30 products and we're always excited to see new work from the studio, so bookmark its portfolio to watch for new additions!
Sam is currently working on another brush font, a stylish and classy type design that will maintain a fresh, urban edge. "I would say it's more of a nod to some of my earlier releases (e.g. Have Heart & Fresh Script), rather than my more recent ones," Sam told us, giving us something really exciting to look forward to in the future.