Established a decade ago as Chile's first digital type foundry, LatinoType endlessly strives to support the efforts of Latin American typographers. Initially founded by Miguel Hernández, who was later joined by Daniel Hernández and Luciano Vergara, LatinoType continues to collaborate with an ever-growing number of typographers and graphic designers, like Pedro González.
Pedro first began his foundry, PeGGO Fonts, as a calligraphic fonts project. Over time, its focus shifted to include the development of more innovative and unique type designs, never losing sight of its primary mission of producing high quality fonts. PeGGO Fonts intends to strike a balance between visual artistry and technical capability, going miles beyond their initial concepts to include ligatures, swashes, alternates, oldstyle curls, and other additional features to ensure that graphic designers are granted the utmost flexibility in their work.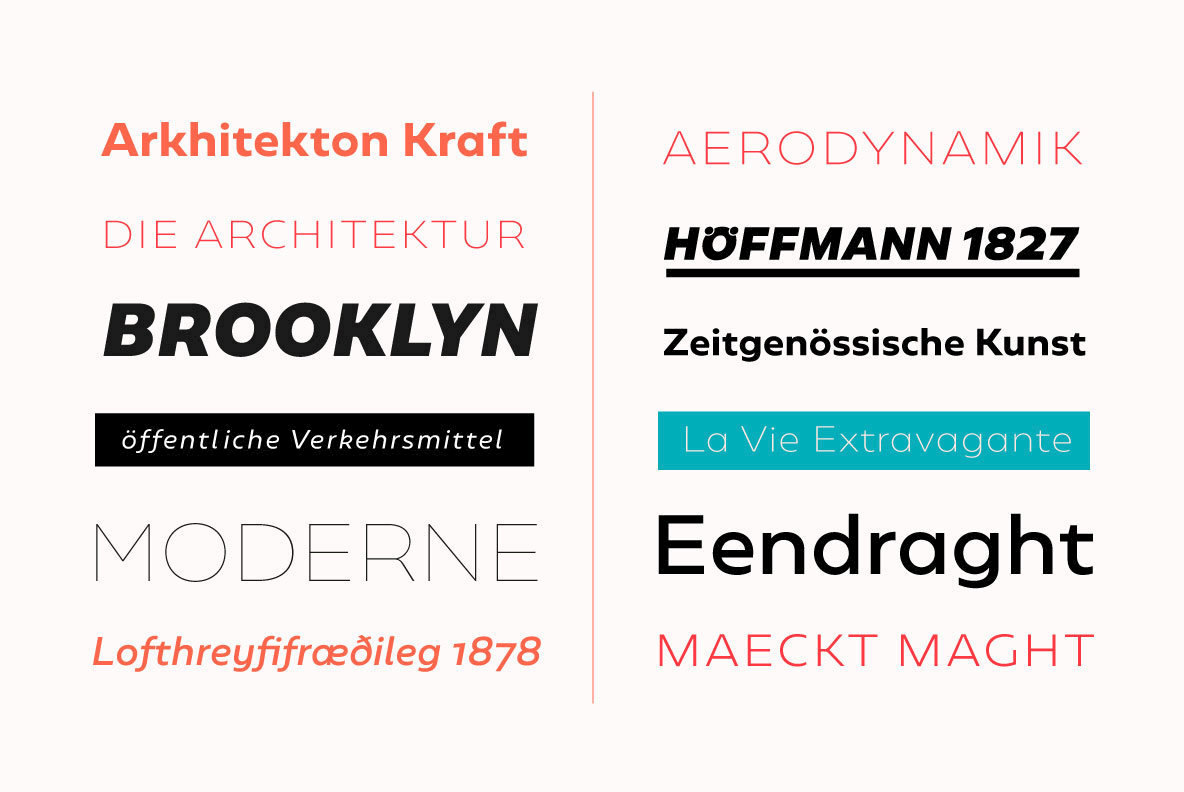 Released by LatinoType and designed by PeGGO Fonts, Geometrica is a delightfully rounded feast for the eyes. Designed around a concept that gives the uppercase, lowercase, and small caps characters the same proportions, Geometrica is a sans serif that exudes confidence with clarity and style.
Web content and mobile applications will especially benefit from Geometrica's contemporary flair and high legibility, even in small point. Compact and clean, this font was designed with UI/UX and app designs in mind. E-books, headlines, editorials, advertising spreads, corporate communications and branding will all take advantage of Geometrica's extensive flexibility.
Available in ten weights that range from Thin to ExtraBlack, Geometrica features true italics for each weight. The design is loaded with OpenType features like contextual alternates, case sensitive forms, fractions, numerators, denominators, standard ligatures, slashed zero, oldstyle figures, and stylistic alternates for extensive versatility. Geometrica's multilingual support includes Basic Latin, Western European, Euro, Catalan, Baltic, Turkish, Central European, Romanian, Pan African Latin, Dutch, Afrikaans, and Basic Greek for incredible global accessibility.
LatinoType currently offers 137 products through YouWorkForThem and that number continues to expand with each passing month. Visit their portfolio to check out their complete body of work, purchase your favorites, and bookmark it so you won't miss any of their upcoming additions!