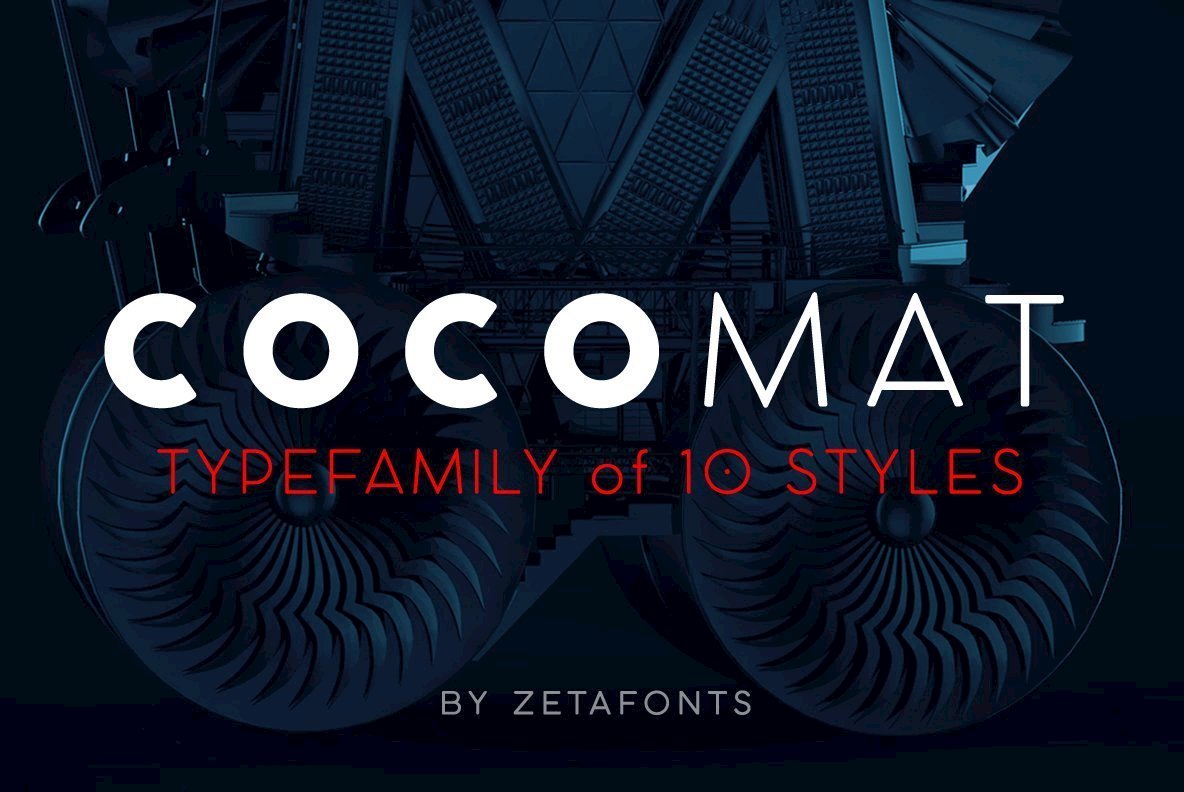 Based in Florence, Italy, Zetafonts is a collaborative studio centered on the production of inspiring type designs that offer versatility and contemporary aesthetics. Originally founded by Francesco Canovaro, Debora Manetti, and Cosimo Lorenzo Pancini more than ten years ago, Zetafonts has worked with many typographers to create only the very best products for graphic designers and visual artists around the globe.
With so much experience under their collective belts, Zetafonts studio is an undeniable master of its craft and they offered an important piece of advice to aspiring typographers. "Always design type with a real usage in mind," they emphasized, adding that it makes no sense to create a typeface that you wouldn't want to use in one of your own projects. At times, you may also find that simplicity is a better approach in the end. "Often, the more beautiful and elaborate typefaces may have too much personality," they expressed.
One of Zetafonts' most recent releases is COCOMAT, a member of the Coco Gothic super family — their best-selling and most complex project to date. An elegant and sophisticated sans serif, COCOMAT's graceful letterforms pay tribute to the halcyon era of the 1920s. "Italian avant garde artists of the beginning of the century managed to mix a taste for innovation and future with the love for classical beauty and proportion," Zetafonts expressed. "The elongated, dynamic shapes in their paintings and architectural projects can be very similar to American and European art deco but still keep their links to Italian culture."
COCOMAT presents itself with slightly rounded corners that add a delicate wisp of smoothness, giving a handmade impression to what is, at its core, a stone-cold, geometric typeface. These subtle intricacies imbue COCOMAT with a hospitable warmth that connects it with other period lettering pieces, typically hand drawn with extreme precision according to geometric proportions, yet they would retain a slightly imperfect appearance in their finished designs.
COCOMAT offers clean legibility and contemporary luxury, making it especially appropriate for high-end product packaging. In fact, this type design took center stage in a line of luxury jams produced in Tuscany. "We had the chance to test the typeface in a real production environment and to adjust it to practical needs," Zetafonts explained. "In the end, the products were extremely successful and their package graphics won us an award for best packaging in Italy."
The simplistic refinement of COCOMAT was certainly not without its challenges. "This is one of the first typefaces where we included a full Cyrillic and Greek alphabet in the font," Zetafonts told us. "It was extremely challenging to translate the futurist proportions to foreign alphabets and we had to ask the help of Russian designers. In the end, we are happy with the result."
COCOMAT is available in five weights that range from UltraLight to Heavy, with corresponding italics for each. It offers a beautiful set of small caps, along with standard ligatures, stylistic alternates, and oldstyle figures for additional design versatility. COCOMAT's multilingual support extends to include Basic Latin, Western European, Euro, Catalan, Baltic, Turkish, Central European, Romanian, Pan African Latin, Dutch, Afrikaans, Latin Ligatures, and Basic Cyrillic for incredible worldwide accessibility.

You don't want to miss the rest of Zetafonts' portfolio on YouWorkForThem. Their work always offers broad functionality and impeccable style, two elements which are vital to modern graphic design. Zetafonts continues to expand upon their Coco Gothic family. "It's a collection of many different typefaces, one for each decade of the XX century," they explained. "Cocomat is the 1920s typeface; we just released the 1930 Coco that is called Cocosignum and that explores the typography style of the Italian fascist era, and we plan to release more variants in the future."
Zetafonts also encourages our readers to explore a stunning graphic presentation that includes gorgeous 3-D renderings of futurist machinery created by Bruno Laversa, an incredibly talented 3-D artist and designer. Immerse yourself in COCOMAT's futuristic world, and you may never want to return to the real one.