While Olivier Gourvat has been working with type design since 2004, the influence of typography began much earlier in his life. "My father was a literary artist and I grew up surrounded with hand-painted panels and letters," he explained. Indeed, his father's workshop was full of them, and Olivier had access to a treasure-trove of books on typography and the old foundry so there was never any question about what his professional future would bring.
Olivier's design studio, Mostardesign Studio, carries a heavy focus on branding, illustration, advertising, and custom type. Following the release of his very first font, Visoko, in 2009, the emphasis of his career transferred to type design. His past work experience greatly influenced his typography, giving him a competitive edge in the font market. Olivier knows what works, citing an affinity for fonts that offer extensive flexibility through their weights. Beyond that, there are specific details that add to the overall quality of a type design. "The essential points for a superior font are the quality of realization, timelessness, its functionalities, and the overall rhythm that it generates along the sentences," he observed.
His latest release, Rival, embraces every single one of those elements. Rival is a contemporary serif inspired by characters drawn with the use of a round nib, adding a softness where other serifs take a sharper approach. These subtly calligraphic accents make Rival feel welcoming and communicative, offering clear legibility through a fashionable yet versatile architecture. "Rival has a lot of emphasis (especially with the small caps) with a modern calligraphic touch," Olivier spoke of what he loves most about its finished design.
Olivier wanted to make a new serif family with a modern look while addressing the current uses of typography without sacrificing clarity or reading flow in long texts. This resulted in the decision to pair a slab serif style with calligraphic inflections to mimic a handwritten style while maintaining contemporary aesthetics.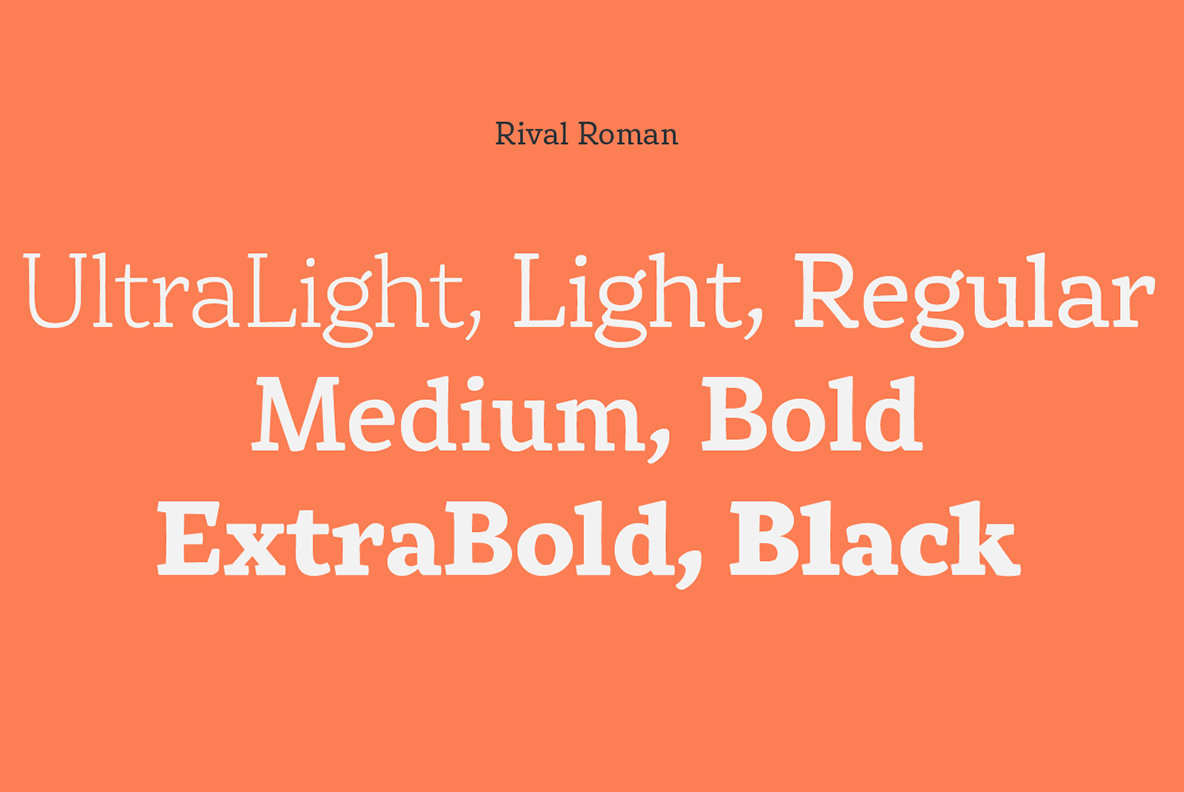 Rival is available in seven weights that range from UltraLight to Black with corresponding italics for each. It's loaded with additional features that include capitals to small caps, case sensitive forms, discretionary ligatures, standard ligatures, fractions, ordinals, slashed zero, subscript, superscript, stylistic alternates, oldstyle figures, and tabular figures. Rival's multilingual support extends to Basic Latin, Western European, Euro, Catalan, Baltic, Turkish, Central European, Romanian, Pan African Latin, Dutch, Pinyin, and Basic Greek for far-reaching accessibility.
Rival is on sale now through March 5, 2017 for 85% off of its regular price so it's a terrific time to add this one to your font cache!

Olivier currently has 25 products available through YouWorkForThem and we're excited to see his future additions. "I am working on a new character within a monoline aspect that I will try to make more dynamic," he said, adding that he was also working on customizing Sofia Pro for a large company in California.
Visit his portfolio to see all of his type designs and purchase your favorites today. You never know what you might create and Olivier is always interested to see what you've done with his typefaces. "I'm always curious to see what graphic designers, graphic artists, and web designers are doing with the fonts I release," Olivier expressed, encouraging them to share their finished designs with him. "Don't hesitate to send me photos of your achievements in print or digital," he said, "and keep up the good work!"