When the weather begins to turn and summer is fading, the daylight wanes in favor of the darkness. The ground, once so alive with warmth and sunshine, is littered with the corpses of a million leaves while the trees groan a haunting, mournful song in response. As a bitter autumn wind forcefully embraces you, a piercing shiver descends your spine and you come face-to-face with one singular, unavoidable truth:
Halloween is coming.
Like a serial killer methodically stalking its prey through an abandoned warehouse or long-forgotten graveyard, Halloween is steadily approaching. Its confident stride displays an assurance that it need not run or even break a sweat during its pursuit because it knows, it knows, that it's just a matter of time before it finally catches up with you.
And it will catch up to you.
To help you get ready for what's coming, YouWorkForThem has put together a list of 25 spooktastic fonts for Halloween. "It's always better to be prepared than to end up as dinner for the dead," that's what we always say. Or at least we would, if we had a reason to say that very often.
YWFT Attic is a distressed type design whose roughened edges barely contain its bold letterforms. Childlike yet psychologically disturbed, YWFT Attic has seen things. Horrible things, things we can't begin to comprehend. Ideal for large displays and posters, YWFT Attic significantly increases the creep-factor of any Halloween-themed design layout.
Carver Jack is a set of cute, all-purpose jack-o'-lantern dingbats. Featuring 65 glyphs, Carver Jack makes it easy to add an illustrated touch to party invitations, treat bags, and other Halloween crafts. The lack of gore makes this particular set a great choice for design projects that are geared toward adult scaredy cats and children of all ages.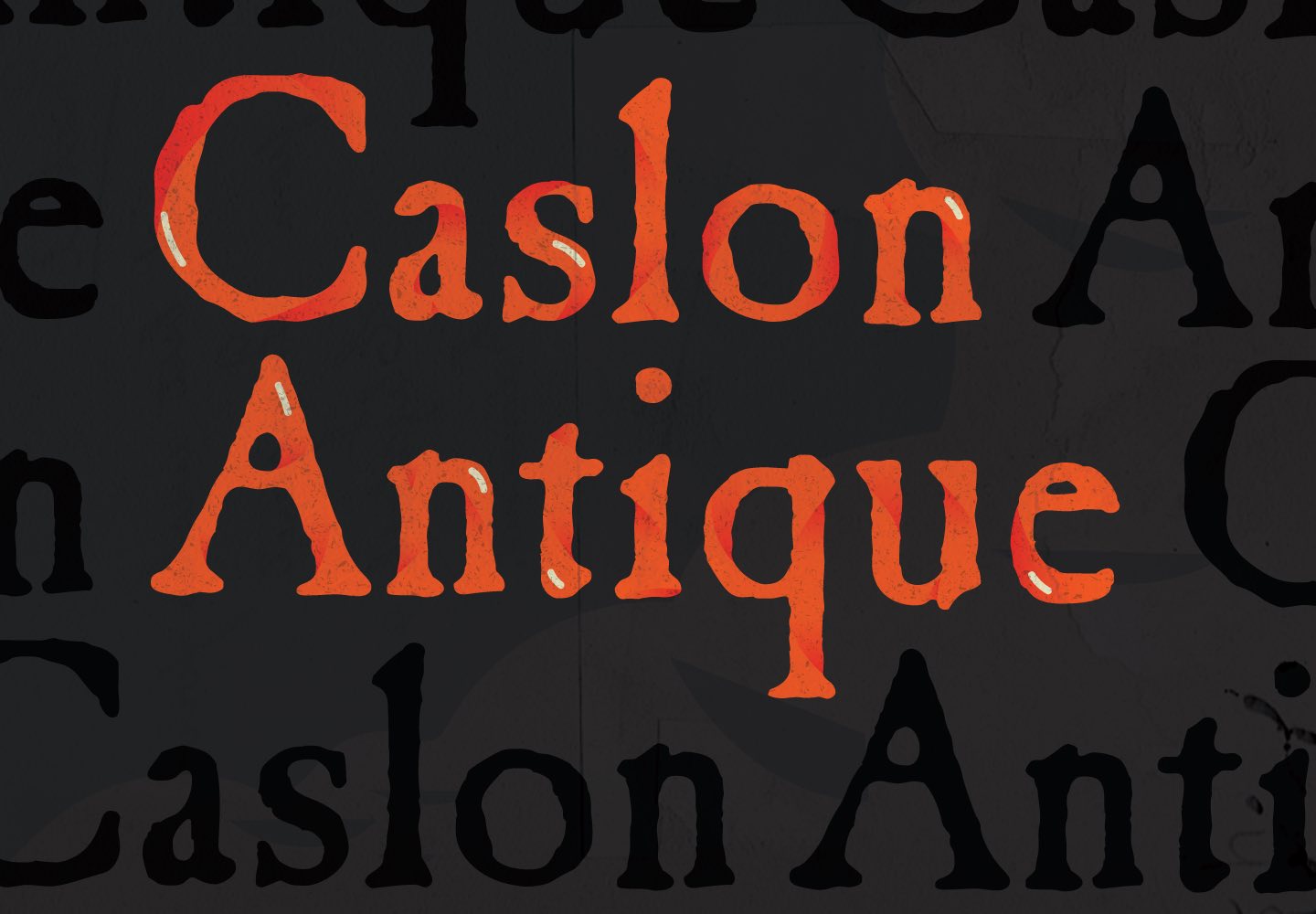 Caslon Antique has the appearance of letterpress printing from the 1800s, with a gothic influence that lends an element of malevolence to Halloween design layouts. Caslon Antique is exactly what you'd expect to find in a vintage occult publication or grimoire. Subtly sinister with excellent legibility, this font is a perfectly menacing choice for horror story text, dark poetry about ravens, party invitations, Halloween recipe cards, and spell scrolls.
Chiller is a display font that shares a victim's last message to the world, scrawled using fingertips dipped in their own blood. In fact, with the addition of a little digital painting on top of the text, you could render convincingly three-dimensional blood writing through strategically-placed highlights and shadows. If you're more into bile or other squishy body substances, your appropriate color choices can totally rock those as well. What's really great about Chiller is that it was carefully constructed to be legible even in smaller point, making it equally appropriate for large displays and small printed invitations that need a healthy dose of gore.
Creepster Pro is a retro-inspired display type design that's an absolute scream. Reminiscent of poster designs from the 50s and 60s horror genre, Creepster Pro is the perfect way to add a touch of vintage Hollywood terror to larger design layouts like posters, banners, and Halloween signage.
LTC Creepy Ornaments is a collection of dingbats that are creepy as hell. If you think we're kidding, you obviously haven't seen the chicken babies in this collection. No, we don't mean cutesy, fluffy baby chicks. We're talking chicken bodies with human children's heads, just walking around like it's a perfectly normal thing to do. LTC Creepy Ornaments contains 86 glyphs of disturbing vintage illustrations that also include fish and animals, jesters, skulls with crossbones, moons, masonic symbols, and assorted fraternal symbols guaranteed to add a disquieting element of horror to any graphic design.
Cruller is a font whose design is based upon lettering from a 1910 German lettering book. As if that weren't creepy enough, Cruller has a rather medieval appearance, adding an element of nefarious intent to any manuscript. This type design conjures images of a scribe, carefully inking each letter within a Book of Shadows, which makes it a particularly excellent choice for Halloween designs that focus on witchcraft and the supernatural.
Cult is another exceptional font for witchery and sorcery with a slightly more modern feel. Cult's rounded capital letters and gaunt lower case letters create an unsettling juxtaposition of characters, one befitting a hex or exorcism ritual. Latin words look especially ominous when this font is used. Don't know any Latin? Make up your own terminology – it worked in Harry Potter. Regardless of your chosen words, Cult will make each one look positively wicked.
Dark Angel is a modern take on traditional blackletter styling, yet it maintains an element of retro charisma. This heavy-handed type design features an optional underlight and highlight for illustrated depth. Gothic and robust, Dark Angel glowers from above as its wings incite a thunderous roar. Its substantial letterforms are well-suited for signage, posters, and larger graphic displays.
Dreadful is a playfully vintage font that embodies classic horror. This hand drawn decorative font takes a comic book approach with illustrated lines that evoke the nostalgic eras of Dracula, Frankenstein, and the Wolf Man. Dreadful is a layered font family that includes Regular, Shadow, a distressed Rust, and a half-disintegrated Rot. The Dreadful Extras set includes 66 frightful ornaments for added design versatility.
Dusk was inspired by Runic forms and carries a legitimately unnerving appearance. Available in three weights, Dusk is ancient and primordial. Dusk Thin features the runic-based alphabet with clean lines and clear legibility. Dusk is then subtly overtaken by the darkness, extending outward like fine roots as it completely envelopes the shape of its host letterforms. Dusk Swash is the beginning of the end, burrowing deep cracks through the earth at the start of the apocalypse. With the exception of Dusk Thin, Dusk is best used in larger displays as it has limited readability in smaller point.
Grissom is a collection of the creepiest crawlies who ever crawled. While there are a few butterflies, happy grasshoppers, and carefree bees, this set of 136 dingbats also includes centipedes, scorpions, spiders, snakes, and other wriggly creatures from the insect world that will straight up add the heebie-jeebies to your Halloween designs.
Grotesque and Arabesque is a gloriously antiqued display font with a heavy Baroque influence. While the exotic letterforms could be fashioned from wood or metal, the pieces are joined together in a way that resembles the inner workings of human joints and bones. Grotesque and Arabesque conjures a visual atmosphere of traveling carnivals and freak shows, where anything might happen after dark.
Hammerhead is based on the hand-painted lettering of a vintage circus poster. Top-heavy letterforms add a non-gory element of fright, making this type design an appropriate choice for Halloween projects aimed at adults and children alike. Hammerhead is particularly fear-tastic in posters and larger graphic displays.
Horror is a brush script that fans of the same genre will love. Thick, rough-handed strokes lend an air of urgency and alarm that adds a tangible sense of impending doom. Horror is an emotive display font for Halloween-themed posters, banners, and invitations that set the tone for a scary good time.
Horror Show recalls classic type styles that were commonplace in mid-century horror movie poster designs. This heavy display font is packed with thrills and chills, making it an excellent choice for posters and large graphic layouts. Whether your project is under attack by killer tomatoes or Nosferatu himself, Horror Show has got your design covered.
P22 Koch Signs is a digital reproduction of more than 350 signs and symbols from "The Book of Signs," by Rudolf Koch. Packed with runic and zodiac symbols, P22 Koch Signs will conjure all of the sorcery, alchemy, and witchery that your design project requires.
Los Lana Niu is a subtly scary type design. Featuring letterforms that are slightly jagged and unexpectedly edgy, the 24 fonts in the Los Lana Niu family make you feel uneasy but you can't quite put your finger on why. This understated font is perfect for Halloween projects that take a psychological, subdued approach to horror.
P22 Mystic Pro is a decorative typeface with a vintage flair. Many a gypsy curse has been cast using words written in this script, or so we're guessing. P22 Mystic Pro's design was actually based on a real Ouija board, so who knows what power lay dormant within its letterforms? It's probably no coincidence that this font also comes with an ornament depicting a Ouija board planchette…
Paradise Lost is a handwritten script with a sinister presentation. While the letters could have been written in dirt using a stick, in this context they're much more likely to have been scratched into the stone walls of a dungeon by an unwilling prisoner. With their own fingernails. Paradise Lost is an excellent choice for Halloween-themed design layouts that want to play upon a universally primal fear: the dread of captivity and torture.
P22 Posada Extras is a set of illustrated dingbats with a dark, gothic appeal. Featuring 80 glyphs, P22 Posada Extras adds a morbid touch to both Day of the Dead and Halloween design projects. The weathered designs within this set include inky skulls, figures, insects, and ornaments.
Savage Hipsters is a rather quintessential Halloween typeface. Decorative and kid-friendly, Savage Hipsters is totally gore-free with a vintage appeal that extends to every generation currently living. (Ghastly ghosts from the past seem to like it, too!) This display font is appropriate for any Halloween design project that's centered around lighthearted fun and games.
Story Brush is a distressed display font, handwritten in what you hope is paint (but deep down, you're 100% sure it's blood and you should probably start running right now). The highly detailed strokes of Story Brush are available in two forms, Regular and Slanted, for extra impact and versatility. This font is amazing on posters and large displays with excellent legibility.
Wild Zova is a type design written with a swift hand. The marks appear agitated in their urgency, almost as if the writer were in a hurry to get their message down quickly. Perhaps they were being chased by someone… or something. Wild Zova is a grungy hand-lettered font that's ideal for posters, invitations, banners, and any Halloween-themed design project that needs an element of terror.
Zombie Rot Drippy is a festering cesspool of gory goodness. Juicy in the nastiest way, Zombie Rot Drippy is distressed like diseased flesh, rotting from the inside out. This type design has a retro spin that provides classic horror appeal and it looks great on posters, banners, invitations, and medical pamphlets that warn about flesh-eating bacteria.
Now that you're armed to the teeth with Halloween fonts, you have nothing to fear but fear itself. Well, that and zombies. You should probably fear the zombies. And the ghosts. And the vampires. But especially the werewolves. Don't even get us started on the trick-or-treaters.
Keep your doors locked, and sleep tight. Happy Halloween!