Jonathan Hill created The Northern Block type foundry in 2006. The foundry's name originated from the term, "The Eastern Bloc," additionally finding inspiration in the wit and irony of The Designer's Republic, an anti-establishment design studio in his home city of Sheffield, England. Their use of the phrase, "North Of Nowhere," heavily influenced the name he would ultimately give to his type foundry.
It was during his time spent as a designer in the music industry that Jonathan first realized that entirely new typefaces could be–and were being–developed constantly. He was initially influenced by Rian Hughes from Device Fonts, and the Identikal type foundry, both in London. Jonathan says, "their work was bold and exciting and gave me a better understanding of how type design created another layer of detail."
Special Sale: for the next month, we are offering an exclusive sale of 50-75% off Northern Block fonts.
After leaving the music industry, he began a career as a freelance designer, which afforded him the opportunity to explore type design for himself. Jonathan's first typeface, StealWerks, found its influence in the industrial landscape of his hometown, and he used it for self-promotional materials before it became the first official release for The Northern Block.
The Northern Block is tucked along the outskirts of Newcastle upon Tyne in northeast England, a picturesque countryside with a centuries-long industrial history. The city itself became one of England's largest print centers in the 18th century, founding the Literary and Philosophical Society of Newcastle upon Tyne in 1793, a historical library that's still in use today. It's no coincidence then, that Jonathan should choose to reside in this captivating location, as its rich history of print and lettering serves as a great inspiration to everyone at The Northern Block type foundry.
Jonathan himself enjoys the early stages of the design process: developing the concepts, working on sketches, and creating drafts. For him, The Northern Block provides a heightened sense of creative freedom, allowing him to explore his ideas "without the constraints imposed by external influence," in his own words. The digitization of fonts at The Northern Block is very much a collaborative effort among the designers and himself, a valued process that allows each person to pitch in and fine-tune the finished typefaces they create together.

Among The Northern Block's font portfolio, the Borda typeface stands apart as Jonathan's favorite. Designed in 2012, it's used as the in-game typeface for Tom Clancy's "The Division," an exciting third-person shooter video game released worldwide by Ubisoft in March, 2016. According to Jonathan, the Borda typeface is "typical of my style mixing pure mathematics with enough of the optical rules to make the characters legible. It also embodies my type design journey from primitive display shapes to carefully refined characters."
Looking at The Northern Block's product list, it's clear that this foundry puts emphasis on clean, modernistic lines, featuring a geometric artistry that embodies past, current, and future technological advances.

Mekon is the dramatic, heavy weight typeface featured on the cover of the New York Times bestseller, "Ready Player One," by Ernest Cline. Mekon features wide, solid lettering in addition to its gradient and outlined versions, making this an easily adaptable typeface for any designer who wants to make a truly bold statement.
DraftWerk, on the other hand, is a minimalist's dream. With clean lines and rounded edges, DraftWerk is a sleek and modern typeface offered in four weights ranging from light to bold.
Dekal is an absolutely gorgeous, multi-lined typeface that manages to simultaneously evoke 70's disco while maintaining a contemporary flair. Featuring the geometric elements of the Art Deco movement, Dekal is an all-caps character set that offers three styles: Solid, a bold and line-free letter set; Inline, a bold set with single line detailing; and Regular, a letter set with three-line detailing.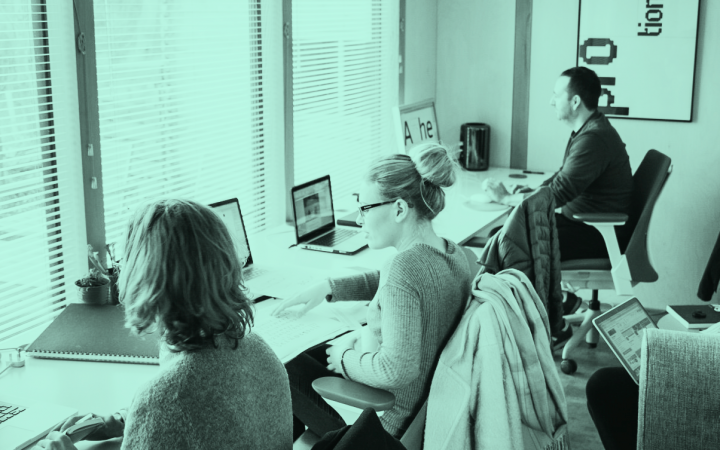 When we asked Jonathan about his thoughts on the future of type design, he says it is "hard to say what the future holds for type design with digital downloads, trial versions, subscription packages & web fonts," citing that it often seems to run a path parallel to that of the music industry.
Whatever the future holds, we're sure that The Northern Block will stay at the forefront of cutting edge, modern type design. When Jonathan isn't outdoors enjoying a walk, cycling, gardening, or chopping wood for the winter, he's hard at work designing new typefaces for his foundry. As he points out to us, "The Northern Block's goals are to push further the boundaries of type design, technique, and further the understanding of global languages."
We believe they will do exactly that.
Contact us today to learn more about The Northern Block foundry and the inspired collection of typefaces they offer.