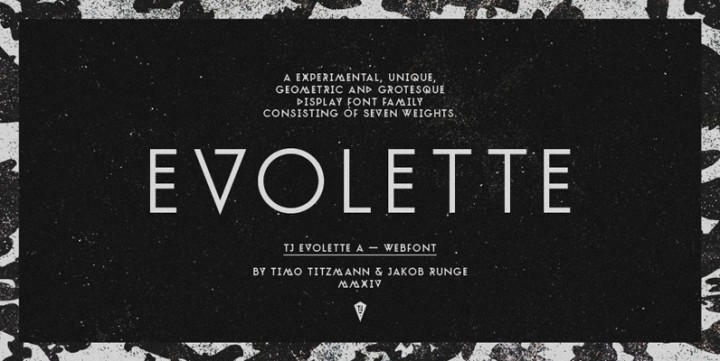 One of our most popular fonts, for many years now, has been the experimental sans-serif design TJ Evolette A. The reason for its popularity was it's amazing use of OpenType features, that resulted in a first of its kind. You could mix and match numerous letter options and alternates to create some truly unique designs and layouts. After it's release, there were numerous clones published by others, but none of them have yet to surpass the original style and power of TJ Evolette A.
One downside of all this OpenType power was it doesn't really translate over into WebFont formats. This is because (2014) OpenType features are hardly supported by modern web browsers. So, the designers of TJ Evolette A came up with a great work around idea. They have remastered and published a new version of TJ Evolette A just for the web. You can give this new version, TJ Evolette A Web, a test drive on our site starting today.
As an extra bonus, you can download the complete family of TJ Evolette A Web for 51% Off until July 28, 2014.
Download TJ Evolette A Web Font
TJ Evolette A Web was published by type me! fonts, designed by Timo Titzmann and Jakob Runge (2011,2014).