From his hometown of Barcelona, Jordi Embodas founded Tipografies (tipographies in catalan) in 2010, to show and promote his own personal typeface ideas. He began designing fonts as a hobby in 2008, and specializes in designing robust, useful and durable font collections. Tipografies fonts are available for download as Desktop, WebFont and Mobile Font formats.
For an entire month, download any of the beautiful Tipografies designs at an exclusive 30% off.
Bulo (hoax in catalan) is a Sanserif font that offers a straightforward design. The construction of characters combines a mechanical force with a little humanist fragrance, specially in lowercases and italics. Basically, it is designed for press. In order to save a lot of space, both horizontally – with slightly condensed proportions – and vertically – with very short ascendents & descendants -, it has a lot of x-height and a reduced uppercase. The idea is to present only a single family for all the hierarchies of information; with enough presence and notoriety in headlines or subheads, while comfortable and transparent in text sizes.
Orenga is a calligraphic sanserif typeface family. It has a Latin & Mediterranian flavour with northern (Dutch) influences. Is an original writing with a little Oregan aroma. Specially used for handmade things, nature, kids or cooking thematics. Orenga has five weights, allowing it to bring a variety of tones to the page. First for weight with italics. All uprights cuts have small caps. Opentype font contains these features: Ligning figures, old style figures, small caps figures and a complete Latin encoding to write in many languages. Large x-height with a good lecture in small sizes.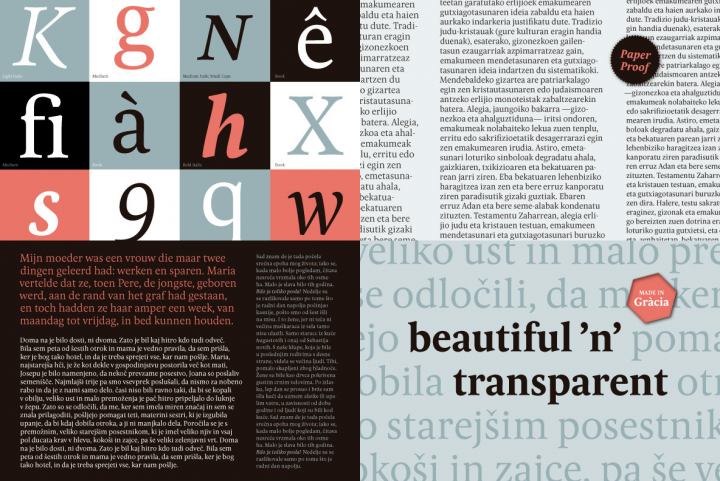 Pona is a classic serif typeface family. It is an interpretation of some of the most well-known serif fonts, including Times, Georgia, Goudy, and Garamond. It offers delicate letterforms with a large x-height and moderate contrast that is also useful in small sizes and low-res prints. Pona has five weights, allowing it to bring a variety of tones to the page. It is an OpenType font with small caps, proportional lining figures, tabular lining figures, proportional oldstyle figures, tabular oldstyle figures, super- and subscripts, fractions, and ordinals.
Trola (lie in Valencian) is a family related to Bulo. They share the same skeleton, but Trola has a completely different flavor. Its unusual proportions makes it particularly recommended for generous sizes to fit in tight spaces. It can also be considered a headline font with a moderate contrast to gain presence and make a stronger screen display.
Bulo Rounded is a real Rounded: not only the beginning and the end of the strokes are rounded, but also the counters and the intersections of the glyphs. The result is a smooth effect that brings a warm feeling, and the rounded text is perceived in a logical and natural way.