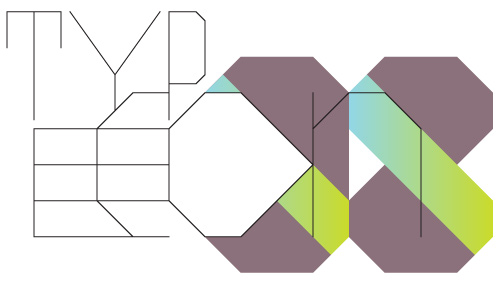 Just got back from TypeCon 2008 and thought I would give a little run down. It was held in Buffalo, NY and was great to see what the home of the Chicken Wing was like.
I got there on Wednesday, July 16th and said my hellos and checked on the poster show. Shu was in charge of the set up so we talked about everything, looked over what came in and was very impressed with the submissions. We decided to put all the submissions in the show, so if you entered, your poster was up (unless it got lost in post or something). I will write another blog entry on the poster show so give me a couple of days to get that up. I have tons of pictures to share of the poster show.

Later that night there was a Stefan Sagmeister event at the Karpeles Manuscript Library Museum so I hopped on a bus to check it out. Stefan's speech was great, it was about his book, Things I have Learned in My Life. I really enjoyed his presentation. I really like how he thinks a couple steps beyond design and brings ideas to the masses.

All of the days were packed solid with workshops and presentations. Friday I spoke on a panel about Indie Font Marketing that was moderated by Jan Middendorp. The panel went good, we got to talk about the Black Slabbath punk rock type release party, show the Fred and Sharon Movie and talk about how we really are different from any other type foundry out there. So if you make fonts, hit us up.

Friday night Erik Spiekermann spoke at the Albright-Knox Art Gallery. He was his out-spoken "funny" self, but can get a little much after a while. I had to take an extended break in the middle of his presentation and check out the Gallery. I really liked the Gallery a lot, it had a very informal feel to it, very welcoming.

My favorite night was on Sunday night with a trip to the Roycrofter compound. I got to see the community, hear some history and talk to some of the artists there. They had a great dinner for us there and was a great time with great people.

I think my favorite part of TypeCon and why I keep going back is how personal and intimate the conference is. You get to talk to everyone you want to, and everyone is extremely nice. I never will forget when I went to the first TypeCon in Boston, Matthew Carter shows up and we were all geeking out over the fact that he was there. He strolls in when we were eating breakfast on the second day and sits down at my table and just starts talking away. We were all totally nerding out that THE Matthew Carter came to us and was just chatting it up. At the end, he picks up the tab and walks away. I personally think that Matthew set the tone for the conference by being such a humble and caring man. If you have never been to TypeCon, you may want to consider it if you are into type, it really is a unique experience. The next one is in Atlanta, so get ready!

Click here for the TypeCon flickr group
. Tons of photos.