You have a variety of work, and have had continuing engagements with several clients… do any projects stand out as favorites? We've been doing regular illustrations for The New York Times (mainly the Book Review, but other sections as well). These projects often illustrate an essay or article with a more abstract intellectual theme or relate to the impact of culture on language. Since there usually hasn't been an immediate visual reference to start with it's a fun challenge to figure out a visual accompaniment to an abstract idea. Unlike our usual projects, the time lines of these illustrations, which range from 24 hours to a couple days, force us to conceptualize and execute them very rapidly. We've also continued to design for the Johns Hopkins Film Festival for the past six years; it always challenges us to think of new ways to approach a poster subject that's so well-worn. We'd also love to do more book design and publication design in the future; it's a medium we enjoy working in.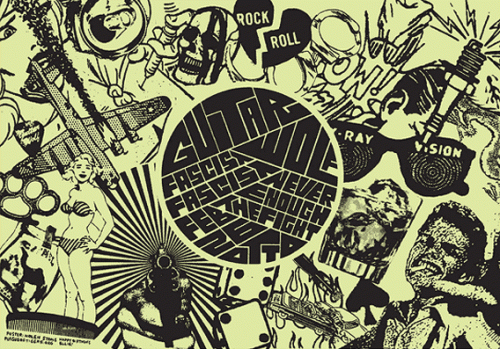 Tell us about the traveling experimental typography show you curated, Alphabet. Alphabet: An Exhibition of Hand-Drawn Lettering and Experimental Typography is a show that we curated in 2005 for Artscape, a large arts festival in Baltimore. We sent out an open call for experimental and inventive interpretations of the letters A-Z and selected the 60 best alphabets from the hundreds of submissions we received. The show features artists and designers from around the world— including work from renowned designers like Ed Fella, the calligrapher Jean Larcher, and House Industries' Ken Barber to exceptional alphabets from students and artists such as Andrew Jeffrey Wright, C.W. Roelle, and Luke Ramsey. In spite of the fact that the show was based on an open call, the level of work submitted was overall very high quality, and the resulting exhibition reflects that. There's also a nice range of approaches ranging from elegant conceptual work to the surreal and illustrative. Since the show closed in Baltimore, Alphabet has been traveling to galleries and institutions around the U.S. (currently in Minneapolis). Check out the Alphabet website for more information.
What does your band, Double Dagger, have to do with graphic design? When we began the band a few years ago, we planned Double Dagger as a graphic design punk concept band. Design and art references made their way into a lot of the lyrics, as parallels and metaphors for the usual stuff punk bands yell about. As the band has grown and evolved, the design stuff has faded from the content, but there's still a good bit of Internet-age, post modern stress throughout which we're sure most designers and others can identify with. Double Dagger has also provided us a chance to design and screenprint a lot of posters, packaging, and shirts, so it's also a chance to express ourselves visually and be our own client. We're also really loud.
What's next for Post Typography? Bruce: I'm going to the Dominican Republic. Woo! Nolen: I'm gonna get my car fixed and shave more regularly. We're also making Post Typography more "legit", working to get some larger jobs. We've done a lot of work across many media, but we're excited whenever we get to do something new that forces us to think in a different way or explore new media. For example we did some film titles last year as well as our first completely Flash-based website, and we hope to continue to explore new media and ideas in the future.
Who are some other individuals or studios that you feel are doing interesting things with design? We're generally too busy working to pay too much attention to what other people are doing. It seems like with the recent explosion of design blogs and trend-spotting blogs, one could spend all of one's time just reading about design. We prefer to spend our time working on our own projects. That said, it seems that in general there are a lot of young smaller studios or individuals who are doing really smart and beautiful work that blurs the line a bit between design and art.
About Post Typography
Originally conceived and founded in 2001 as an avant garde anti-design movement by Nolen Strals and Bruce Willen, Post Typography specializes in graphic design, conceptual typography, and custom lettering/illustration with additional forays into art, apparel, music, curatorial work, design theory, and vandalism. Their work has received numerous fancy design awards and has appeared in such publications as Ellen Lupton's Thinking With Type and D.I.Y.: Design It Yourself, The Art of Modern Rock, STEP Magazine, Metropolis magazine, and Taschen's upcoming compendium, Graphic Design Now. Post Typography has appeared in multiple design and art exhibitions, and their posters are collected by high school punk rockers and prominent designers, whom they consider equally important. Strals and Willen currently teach classes in design and typography at the Maryland Institute College of Art, and have lectured at the Cooper Union, Society of Publication Designers, and Pennsylvania College of Art and Design among others.